*FYI - this post may contain affiliate links, which means we earn a commission at no extra cost to you if you purchase from them. Also, as an Amazon Associate I earn from qualifying purchases. Check out our Privacy Policy and Disclosure. for more info.
PLEASE NOTE: This post is no longer up to date, as Boardbooster closed its doors in 2018. RIP!
Here's a fun party trick: ask a group of bloggers whether they prefer Boardbooster or Tailwind. Get out a bowl of popcorn. Sit back, and wait for the drama to commence.
Yup, there are some STRONG feelings about Pinterest automation tools. And I'm definitely guilty of being a vocal participating in these discussions: I have OPINIONS on Pinterest scheduling tools! But like, that's also my job, so.
In this post, I'm gonna break down the difference between Boardbooster & Tailwind, help you decide whether or not you need to be using automation tools at all, and explain why I prefer Boardbooster to Tailwind. If you're a Tailwind lover and you're already itching to argue with me, hear me out first! Then leave me a comment, below 😉
Let's dive in.
Should you be using Boardbooster or Tailwind at all?
We're gonna start by asking a very important question: do you even need a Pinterest scheduling tool?
Here's the thing: if you're a new Pinterest user, or if you're still working on trying to grow your traffic using Pinterest, automation tools are not something you should be using. 
Automation is a maintainance strategy for more advanced users. If you're a newbie, your best bet is to focus on manual pinning. I outline some of the tactics I recommend for manual pinning in this post: But what do I DO on Pinterest? That's the post you want to read if you're new to Pinterest – not this one.
I know, I know: automation tools save you time. That's what they're designed to do, and manual pinning is a time-suck. Trust me: I spent an hour every day for 4 months pinning my heart out on Pinterest. It sucked. But it also got me to 20,000 monthly readers on a brand new baby blog. Manual pinning is by far the most effective & fastest way to grow your traffic on Pinterest.
So we're clear: automation tools are not effective at growing traffic.  But they ARE very effective at maintaining it. You should use automation tools if you are relatively happy with your Pinterest traffic, and are looking to maintain that traffic level while cutting back on the time you spend on Pinterest.
If you're still reading, that must mean you're looking to save yourself time rather than grow your traffic. Awesome! Guess what? You're about to get SO much of your time back. Automation tools have allowed me to cut back from 7+ hours a week spent on Pinterest, to less than 1. Since I began an automation/maintenance strategy over a year ago, my traffic has remained fairly steady, even though I no longer spend much of my time at all on Pinterest. Which is EXACTLY what automation tools are here for!
If you're eager to get in on that sweet, sweet time saving, let's dive into the differences between Boardbooster and Tailwind.
TAKEAWAY
Manual pinning is by far the most effective & fastest way to grow your traffic on Pinterest. Automation is best used  to maintain your traffic and save you time, NOT grow your traffic.
Boardbooster vs. Tailwind: What's the difference?
Both Boardbooster & Tailwind are Pinterest automation tools that allow you to schedule pins in advance to be pinned later. They both allow you to save time by auto-pinning when you're asleep, at work, or frantically engaging on Instagram. That said, there are a few crucial differences between the two tools. Here's what you need to know.
Tailwind will only pin EXACTLY what you want it to pin.
On Tailwind, you'll need to schedule every single pin that you want pinned. Tailwind will not find pins for you. It will not recycle old pins for you. It will not go into your boards, pick out a pin that you've already pinned, and pin THAT. It won't read your mind. It won't do anything other than pin what you tell it to, when you tell it to.  That is what it does.
It does have a few other features – like a nifty time time slot generator that recommends incredibly specific pinning schedules based on the number of pins you want to share per day. That's pretty handy. And it also has Tailwind Tribes, which allows you to share your pins with other Tailwind users for them to share, although that's now a paid feature. But other than that? It's pretty basic. You tell it to pin a pin at a time. It pins that pin at that time. Done.
On the other hand, Boardbooster does a LOT more than just pin pins at a specific time. It can find pins for you using targeted boards. It can circulate existing pins from your boards, so you don't have to bother finding new pins at all. It can pull pins out of a board you designate and auto-circulate them to other boards you designate. It can even clean up your pins for you, identify duplicates and broken links on your pins, mass-move pins from one board to another, and help you manage group boards that you own.
In fact, one of the biggest complains about Boardbooster is that there are SO many features, it's confusing to know how to use them all. Personally, I'd rather have too many cool features than 1 simple feature.
Boardbooster recirculates existing pins. Tailwind creates brand new pins.
When Tailwind shares a scheduled pin, it shares it to Pinterest as a brand new pin, as though you've just discovered new content on a blog and pinned directly from the post. It appears on Pinterest as a brand new, never-before-created pin.
On the other hand, when Boardbooster re-pins for you, it shares your original pin, as if someone else or you re-pinned it.
This is a huge difference in the 2 Pinterest scheduling tools. But it used to be a MUCH bigger deal than it is now. Back in the day – like, a few months ago – the main metric that Pinners relied on to evaluate the success of their pins was re-pins. Re-pins indicated how many other Pinners had shared your pin. The higher your re-pin count, the more popular your content. This made it CRUCIAL to maintain and grow high re-pin counts. Resetting your re-pin counts with Tailwind was a great way to tank your engagement and undo all of your hard work.
But, that all changed recently, when Pinterest re-tooled its algorithm and removed re-pins from public view (read more about those changes). Although I believe re-pins are still an important part of the algorithm's back-end calculations, they're not longer AS important as they once were. Still, this is an important distinction in the way these two programs interact with Pinterest.
Tailwind is officially blessed by the almighty Pinterest Gods.
Tailwind and Pinterest are buds. They hang out. Pinterest has given the OK for Tailwind to exist, to do what it does, to auto-pin, and so on and so forth. They have NOT given the same blessing to Boardbooster. That doesn't mean that Boardbooster isn't allowed to exist, or that it's illegal or that it's in danger of shutting down. It just means that Tailwind is buddy-buddy with Pinterest, and Boardbooster isn't. My totally unfounded theory is that Tailwind has extra cash to spend on its ol' pal Pinterest, and Boardbooster, which appears to be a smaller operation, does not.
There is a LOT of conjecture about whether Pinterest's algorithm directly prioritizes pins that come from Tailwind and punishes pins that come from Boardbooster. I don't think that the algorithm rewards or penalizes these pins, but I do think that the recent Pinterest changes to remove re-pins as a visible metric and replace them with individual pin engagement was a direct result of the partnership between Tailwind and Boardbooster.
Still, I prefer Boardbooster. I guess I'm just anti-establishment. Let's dive into why I like Boardbooster more than Tailwind!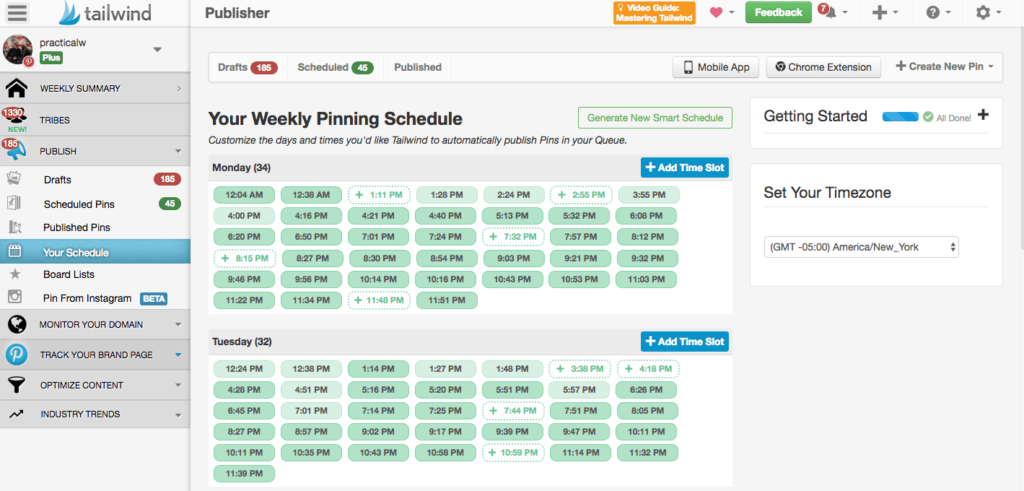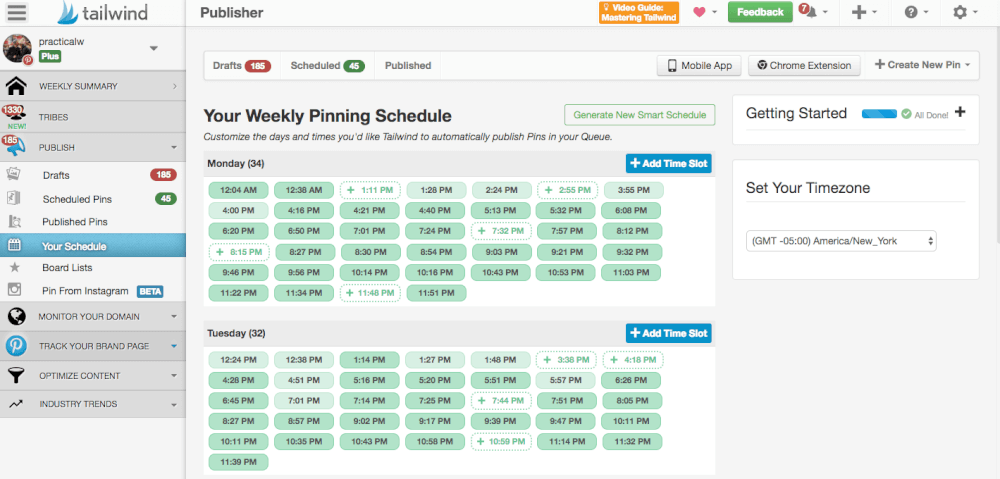 Why I preferred Boardbooster to Tailwind
So, why did I like Boardbooster so much more than Tailwind? (RIP, Boardbooster). First of all, here's a big disclaimer: I use both Boardbooster AND Tailwind to maintain my traffic, and have done so for the past year. But if I had to pick a side, I'd choose Boardbooster every day of the week. Let me break down why I prefer Boardbooster vs Tailwind.
Boardbooster has more abilities & tools
The first and primary reason why I prefer Boardbooster vs. Tailwind is that Boardbooster does SO MUCH MORE than Tailwind. Tailwind is very good at one thing: scheduling pins to post at a suggested time. It also has Tailwind Tribes which help your pin to get shared by other Pinners, but that costs extra. So OK, it's good at 2 things, but 1 of them you have to pay for.
Meanwhile, Boardbooster can do all of the following:
Pin other people's pins to your boards (essentially what Tailwind does)
Circulate your pins to Group Boards automatically, without needing to be regularly told to do so
Finds relevant pins for you to pin to your boards, so you don't have to source your own content
Loop content within your boards, re-circulating pins that you've already found
Delete duplicate pins after looping them, to keep your content fresh
Allow you to share your content to Tribes to be shared by other Pinners – yes, Boardbooster has a Tribes feature too!
And that's just the base package. You can pay extra for the following:
Pin Doctor: Identify problematic pins, including problems such as broken links, changed or irrelevant links, missing links, spam links, and duplicate pins, and help you remove those pins from your boards.
Pin Mover: Mass move pins from one board to another automatically, without having to spend ages using the mass move tool
Group Manager: Identify group board members who aren't contributing or whose pins perform well/poorly (Free) and delete pins that aren't performing (paid).
That's a LOT of features. In fact, I think one of the reasons why Boardbooster isn't as popular as Tailwind is that there are SO many features, it's overwhelming to use, and maybe a bit intimidating. It took me several months and a LOT of trial and error to find a system that worked for me, but once I did, I set it and forgot about it: Boardbooster runs much of my account pretty much on its own at this point.  Psst: I'll be sharing my secret formula for Boardbooster success in my upcoming Pinterest course 😉
Boardbooster had more detailed settings
Tailwind will do one thing for you: it will help you decide what time you should be posting throughout the day, based on their analytics. It won't let you SEE those analytics or do much more than that, but you can decide how many times to post throughout the day and it will spit out recommended times for you. Simple, easy.
Boardbooster, on the other hand, has a LOT more settings than that. Every single tool within Boardbooster – looping, campaigns, scheduling, etc – allows you to set specific settings and guidelines.
Here, take a look at the settings for the Scheduling feature: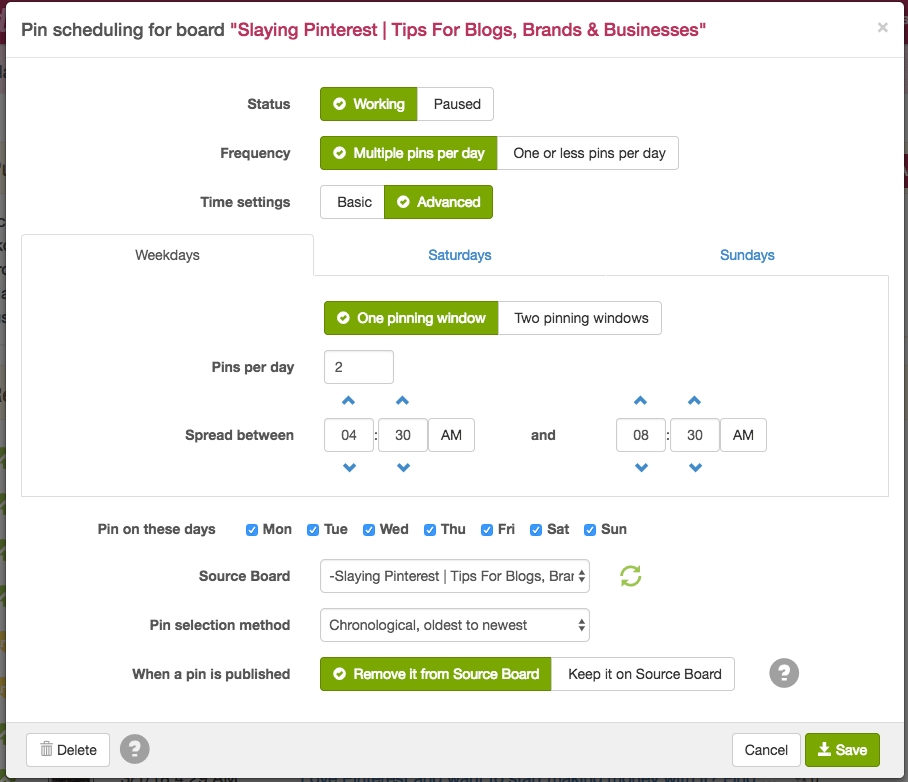 I can set exactly when I want my pins to post, each day of the week, with separate settings for weekdays versus weekends (which is huge, since weekends are my best days and the days I do most of my pinning).
Each of Boardbooster's tools has detailed, in-depth settings that help you determine exactly what you want.  Again, this is a strength of Boardbooster that some may find a little overwhelming. But once you get used to the settings, you'll find that it's actually REALLY useful. And that level of details means you're able to set it once and forget it!
Boardbooster had better analytics
Pinterest's analytics are darn near useless, and Tailwind's are really only useful within Tailwind. But Boardbooster has excellent analytics that allow you to make decisions that both apply to your Boardbooster account AND help you do things on your own.
One of my favorite Boardbooster reports is Board Performance, which helps you evaluate your personal boards as well as your group boards to see which ones are earning you re-pins and which ones are just a waste of space. Here's a preview from my travel blog's account, Practical Wanderlust: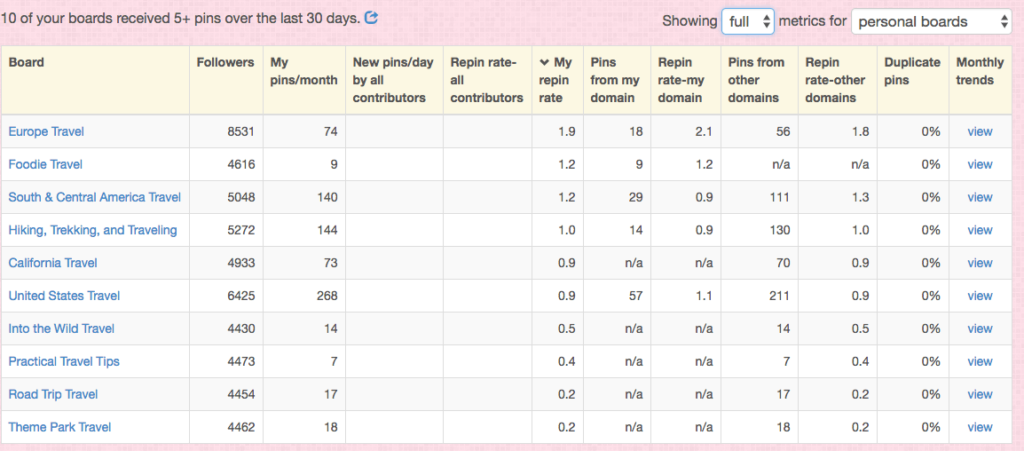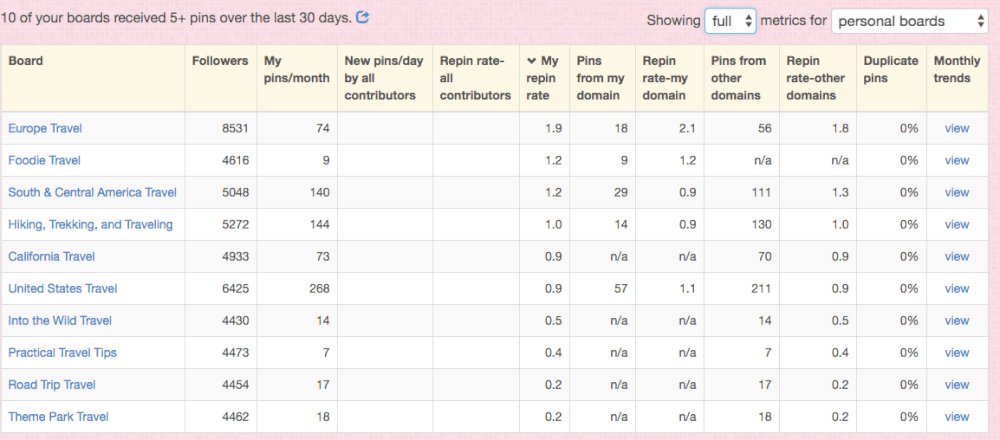 Another one of my favorite Boardbooster reports is 3rd Party Viral Pins. Basically, if someone pins one of your pins (meaning a pin that links back to your domain) and it gets over 25 direct re-pins, it will show up in this report, along with the URL to the pin and the name of the pinner who shared it. This is excellent for finding viral pins and giving them a boost, which is something I highly recommend to everyone. It's possible to do this with a lot of digging and time in Google Analytics, but Boardbooster makes it SOOOO easy! Here's a preview from Practical Wanderlust: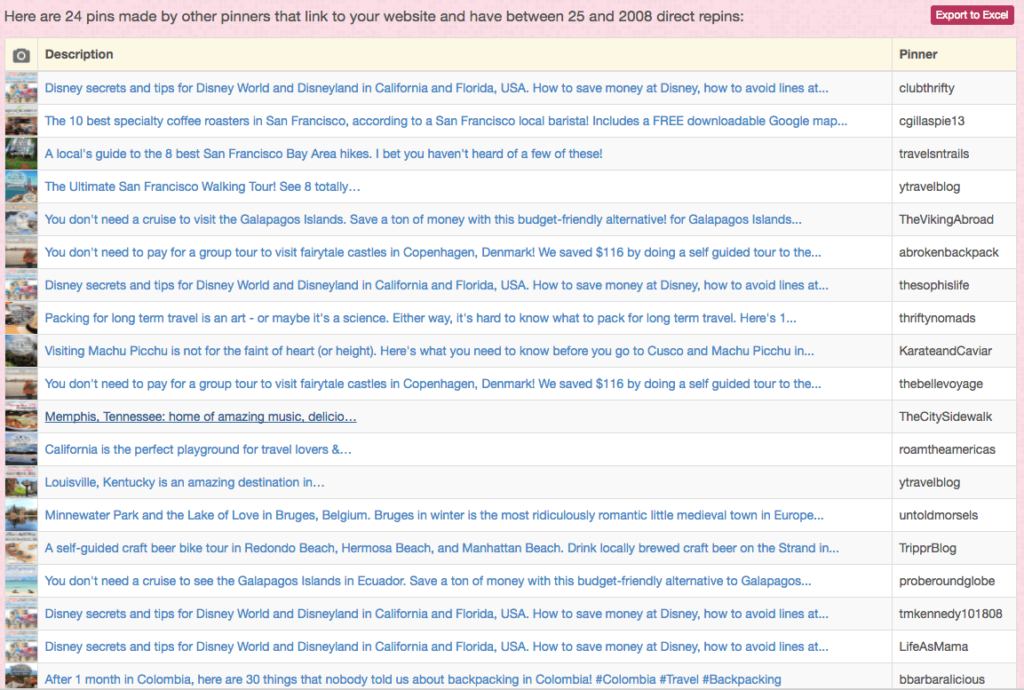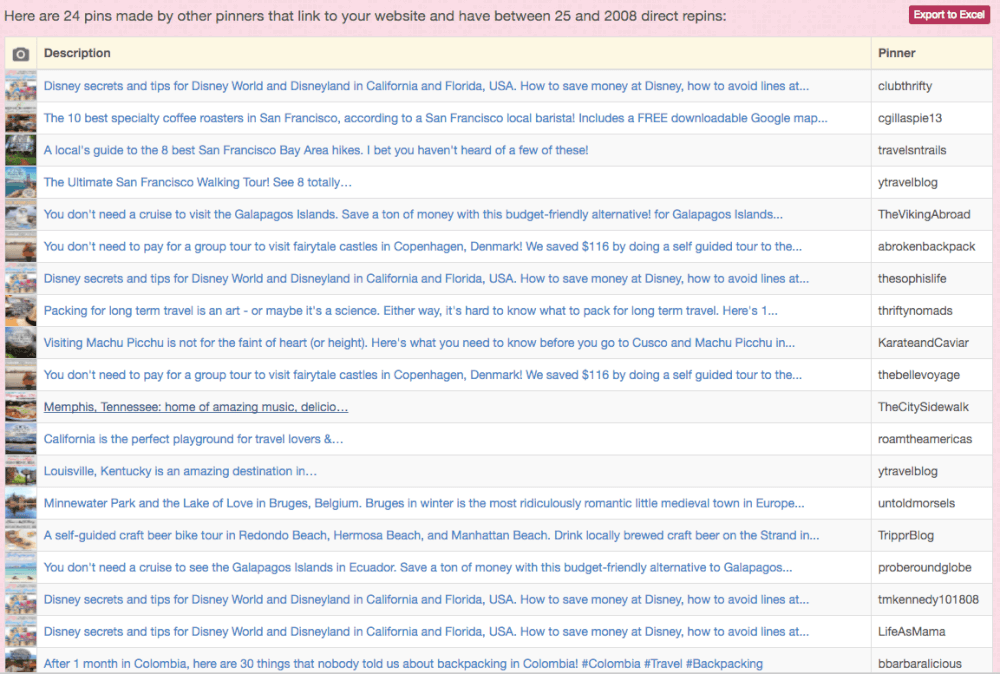 Like other aspects of Boardbooster, understanding the analytics takes a bit of patience. They're in depth and can feel overwhelming. But if you're a huge nerd who likes some good old-fashioned data analysis, like me, they're an incredibly powerful tool and give your Pinterest strategy a great boost!
---
Although I use both Tailwind and Boardbooster to maintain my traffic, I prefer Boardbooster – and now you know why!
Unfortunately, my preferred tool is no longer active – RIP, Boardbooster. So you'll need to sign up for Tailwind to start automating your account. Oh and while you're there, why not join our Tailwind Tribe?
Do you have any questions about Pinterest automation tools? Drop us a comment below!

FOLLOW SLAYING SOCIAL:
    
Did you find this post informative? Save it to reference later on Pinterest!