*FYI - this post may contain affiliate links, which means we earn a commission at no extra cost to you if you purchase from them. Also, as an Amazon Associate I earn from qualifying purchases. Check out our Privacy Policy and Disclosure. for more info.
Sleuthing the web for an honest Animoto review? Cue the fanfare, confetti and and tears of relief, you've come to the right place.
As you know, we here at Slaying Social are big believers in social video. And now, with IGTV (Instagram's latest update in its psychotic bag of tricks), it seems clear that video creation is becoming just as crucial to social media success as the standard goodies like narcissism and crippling caffeine dependence. 😉
Jokes aside, you get the point: video is becoming more important than ever. Buuuut what if you're already too busy juggling the ten million responsibilities on your plate? Writing, strategizing, crying while eating, etc? Let's face it, sometimes you don't have the time or mental energy to learn a whole new skill (if you do though, check out our course). To help solve this problem, we've seen the emergence of many programs that simplify the process of creating cool videos… and today, we'd like to chat about one of the top contenders in this market – Animoto, a cloud-based video creation service that has been making waves in social video since 2006.
And naturally, we're sure you have some questions. Is Animoto worth it? What are the pros and cons of Animoto? And * dun dun* is Animoto right for me?
Well, let's find out. Read on for an honest Animoto review that recaps the pros, cons and everything you need to know before committing to Animoto Video Maker, including an Animoto promo code at the end for 10% off! It's a Slaying Social exclusive, so you should feel pretty special 😉
FULL DISCLOSURE: We were provided with a one month subscription of Animoto Professional for the purpose of this review. Any Animoto links you click are also an affiliate link (like this one, ooooh), which means we earn a commission at no extra cost to you if you make a purchase! Should you find this review helpful, we'd appreciate you using our link! We are currently saving up for a corporate pug. 
What is Animoto Video Maker?
If you're already this far into an Animoto review, odds are you're familiar with Animoto Video Maker already, but for those of you who are confused and maybe searching for lasagna recipes and accidentally ended up here, let me catch you up to speed: Animoto is a paid, cloud-based service that allows you to easily create polished slideshows & marketing videos from your own photos, video clips, music, etc. You can use Animoto on your computer or on mobile, with their fancy schmancy Animoto app. In short, it's an easy and intuitive way to build slideshows and videos, allowing you to upload your own clips, add music from a free library, add cool text effects, etc. all with one easy-to-use program.
Odds are you've come across a Facebook video made with Animoto – they're one of the top services out there for creating videos like these, and infinitely easier than learning video editing from scratch. Of course, as with any service, there are pros, cons and oodles of factors that go into whether or not it'd be a good fit for you. Hopefully this review will help reduce some of those sleepless, indecisive nights.
For an example of an Animoto video, check out this random one about fruitcake history:
Animoto Review: A Quick Summary of Pros and Cons
For the lazy among us, here's a bite-sized Animoto review that summarizes my personal pros and cons for Animoto Video Maker: 
Animoto Video Maker Pros
After trying Animoto out for the month, here are some of the things I liked best:
Super user friendly: With a really simple drag and drop interface, Animoto Video Maker cuts down on all the complicated features from manual editors that freak you out and make you want to quit forever. The process is super intuitive and easy to learn. Even your tech-challenged grandma could probably churn out a solid video with Animoto.
Polished looking videos: Since Animoto takes out the drama/headache of adding fancy text titles and gives you many customization options to fit your own brand, the end result is polished and a massive step-up from ye old Movie Maker/iMovie.
Animoto videos can be made super quickly: Even on my first go, I was able to churn out a video in less than 2 hours (and that included getting familiar with all the features and using it for the first time) so if you're looking for a good timesaver, this will definitely help!
New features all the time: The team at Animoto seem to be obsessed with adding new features. Even during my month long trial period, there were a few new updates! And while they're being kind of vague and cryptic about their development plans, I suspect they have something in the works for the new IGTV format as well.
Strong online community: A while ago, I joined the Animoto Social Video Marketing community on Facebook and I've been SO pleasantly surprised by how lovely the group is. People frequently ask questions or post their own videos for feedback (which others happily give). Definitely a refreshing departure from many of the troll-y and unhelpful groups I've been a part of in the past.
Animoto Video Maker Cons
Animoto Pricing: Animoto pricing works on a subscription model that is (in my opinion) a little pricey if you purchase monthly. The personal plan is already $16 per month and that is super limited in customization and the Animoto logo even still appears at the end. Prices are cut in half for annual subscriptions, but that requires a pretty big commitment. The price would definitely be one of my biggest cons. (Scroll down if you're looking for an Animoto coupon though, we have a discount code for you!)
Lack of features for editing individual clips: At the moment, there's no way to edit individual clips for visual properties like brightness, stabilization, etc. You can however trim clips individually, add a voiceover, adjust the scale/crop and turn the sound on and off. There are also filters, but they are applied across the whole project rather than individual clips, which is a bit frustrating as I usually have clips that require individual tweaking.
Creative restrictions: I think Animoto is better suited to entrepreneurs/marketers who are looking to market a business rather than creative types hoping to vlog or create really inspirational/beautiful content. Naturally, since we're restricted to certain templates/customizations, Animoto videos can start to look a little samey in my opinion so it's hard to get a truly unique aesthetic/look.
Animoto app: The current version of the Animoto app only allows you to create slideshow videos (which I don't love), so you're not able to create/edit marketing videos on the go. This would be SO handy, but unfortunately you're only able to upload videos to certain projects at the moment.
In-Depth Animoto Review
Woah – you're still reading. Okay, I'm not one to disappoint. You all know I love to talk. SO, if you're really mulling over this decision, here is a more in-depth review of the different features and the overall experience of using Animoto Video Editor.
User Experience
Once you've purchased your subscription, you can pretty much go in and start creating videos right away.
What I really appreciate about Animoto is how clean and simple the interface is. Everything is pretty self-explanatory and dummy-proof. There's even a big blue button that says "CREATE" to help you get started. When you do get stuck, answers can be found in the Help center or in the online Facebook group. I definitely think one of Animoto's strongest benefits is how easy and simple it is to use.
Animoto Features
In addition to user-friendliness, Animoto offers some impressive features to boot.
You can easily customize your video through the following:
Choosing either an "Animoto Memories" template (like a slideshow) or an "Animoto Marketing" template (more for marketing videos with fancy text effects)
Choosing between 1:1 aspect ratio (square, ideal for FB) or 16:9 aspect ratio. This makes creating square videos a breeze
Uploading your own content like photos and videos either through desktop or via the Animoto app
Editing individual clips for properties like clip duration, voiceover, volume, titles, etc.
Dragging and dropping clops to create a cohesive timeline
Adding filters (that are applied over top the entire video)
Adding special text effects
Customizing branding elements like logos, colours and fonts
While these features are no doubt impressive, I do wish that there was the option to edit clips individually for visual properties like brightness, saturation, stabilization, etc. but at the moment, the only things you can control at the individual clip level are basic things like the crop, duration, audio and titles. This doesn't give you a ton of flexibility, and I think that's my main Animoto criticism – it's impossible to make subtle changes to polish up individual clips.
That said, Animoto is introducing new features all the time, so I look forward to the day that this kind of capability becomes available. One of the newer features is the ability to add a little logo in the corner for branding purposes (which I love), adding onto an impressive set of customizations available for branding, like adding logos at the end, changing up the video colours, fonts and more.
Here's a screenshot of the interface from a video I'm working on for another site (yes, there are llamas involved):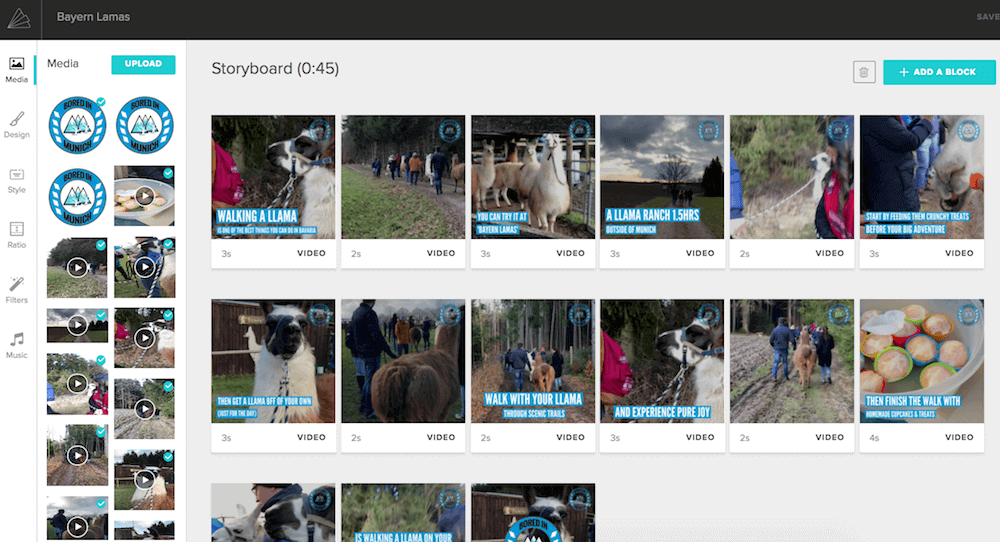 Creating Videos with Animoto: The Experience
Overall, I would say the experience of creating a video with Animoto is really enjoyable, seamless, and easy. You can easily make a polished marketing video without any prior experience, which makes it a great choice for those looking to break into video. While there are definitely creative limitations, I was able to create some nice videos I'm proud of for a brand new secret page I'm working on (results/examples will be posted soon!)
I will say though, as a creative, there were times when I felt a bit restricted with the program. I think I'm probably so used to the manual features on Premiere Pro that the inability to tweak clips really threw me off. I also wish there was more customization for the different text effects/transitions. Overall though, the experience is really easy and fun… it's also way more effortless, which I'm always a fan of.
The Animoto App
In a world where there are apps for literally everything, of course there's an Animoto app!
In theory, I thought this using that app would mean editing videos on the go, being freakishly productive, etc. but in reality, the app only allows you to make slideshow videos and not the fancy marketing ones… sooo, womp womp.
That major flaw aside, I do actually really like the Animoto video maker app. I love that it offers a very seamless and easy way to upload video files/photos from my phone, an otherwise mega-cumbersome feat if I were to do it manually with Premiere Pro. All you need to do is start a project on Desktop, then you can access the project via the app and then upload photos/videos directly into the project. After it's done, you hit Refresh online and all your videos are there to play with – it's literally like magic and one of my favourite Animoto features by far.
NOTE: I've been told that a new Animoto mobile app is in the works and will be released later this year, so stay tuned for an update on that!
Animoto Pricing
Okay so let's talk about the cost.
As you saw above, one of my biggest cons for Animoto is the pricing. The upfront cost of a monthly subscription can seem a little much, especially if you're a solopreneur or blogger that doesn't have a big budget. The personal subscription alone is $18 a month and that doesn't even get rid of the Animoto logo at the end.
BUT, there are easy ways to cut down on the cost. For one, you save 50% if you commit all at once to an Animoto annual plan. We also have an exclusive Animoto discount code that you can use here. Use SLAYINGSOCAIL10 to save 10% on annual professional & business plans.
And when you think about it, you do get pretty good value out of the service if you intend on using it often. It's definitely much cheaper than hiring someone to make your videos, and it's also not that much pricier than a professional program like Adobe Premiere Pro (I pay about $22USD a month for my subscription). The Business plan even allows you to sell your videos to other businesses, so if you used smartly, you'll easily recover the costs.

Go for a test drive w/ an Animoto Trial
So now that you've read my detailed review, are you ready to take the plunge and subscribe to a plan?
*crickets*
Okay, I get it. I, too, have circled around Costco, snapping up every single sample the lovely staff have to offer – from tiny micro-pizzas to bits of crumbly cracker not even worth taking.  Regardless of the treat, I am FIRST IN LINE. I therefore totally understand the sample mentality, and that you might want to try Animoto free first! We're happy to help with that.
Get access to an Animoto free trial here.
NOTE: Your Animoto free account will allow you to test drive the program but videos will be exported with a watermark, so don't think this is a sneaky way to make a million HD videos for free 😉
Our Animoto Promo Code
Whether you decide to go for the trial or not, odds are good that you're a vulture digging around for access to an Animoto coupon/promo code. Well, cue some angelic harp music and a heavenly choir – we've got you.
Our (Slaying Social Exclusive!) Animoto Promo Code: SLAYINGSOCIAL10
*This Animoto coupon will get you 10% off annual professional and business plans.
Click here to redeem your Animoto promo code and check out w/ SLAYINGSOCIAL10
Yay!
Animoto Review Conclusion: Is Animoto Video Maker Right for You?
So, what's the deal? At the end of the day, is Animoto worth the money?
Overall, here's what I think: if you're a helicopter parent with way too many home movies/photos and you're eager to create cute slideshows to bore your neighbours, YES, Animoto is perfect for that.
If you're a time-crunched business owner who wants a fast and easy way to make slick videos to promote your business on social media, then YES, Animoto is great for that too.
If however you are a creative looking to break into video content and would one day like to branch into more unique/bespoke videos, then Animoto might not be the best choice.
But while Animoto Video Maker WON'T be your ticket to seamless, ultra-cinematic content, what it does amazingly is provide an easy way to create polished videos quickly. If your end goal is to save time and create nice-looking videos, all without learning complicated video editing software, then Animoto Video Maker is a fantastic option that's well worth the money, especially if you're using it to market your business.
And so, I hope you found that Animoto review helpful! If you have any more questions about Animoto Video Maker, feel free to ask away in the comments!
We hope you enjoyed that stupidly thorough Animoto review. Once again, we were provided with a one month subscription of Animoto Professional for the purpose of writing this review, and this post contains affiliate links, which means we earn a commission if you subscribe with our link. Thanks again for reading!