*FYI - this post may contain affiliate links, which means we earn a commission at no extra cost to you if you purchase from them. Also, as an Amazon Associate I earn from qualifying purchases. Check out our Privacy Policy and Disclosure. for more info.
If you're anything like me, just the thought of doing a Facebook Live is enough to incite ten burritos' worth of panic eating.
But with Facebook's new algorithm wackiness and consistent pushing of Lives, it's becoming more important than ever to master this nerve-racking new medium. And because a tutorial from ME would just involve repetitive instructions like "1) Try not to cry. 2) Cry a lot", I am SO excited to bring you a new Slayer Success Story today from a real Facebook Live wizard.
Slayers, meet Ariel – the mastermind behind Urbanist, a community dedicated to exploring the stories and wonders of cities around the world.
What makes Ariel qualified to chat with you about Facebook Live? Well, *rolls up sleeves*, let me just chuck some numbers at ya. In the past year and a half, Ariel has done over 250 live broadcasts, scooped up 7 million video views (5 million of which are from LIVES!) and has even earned a shiny nomination at this year's Shorty Awards. Just as every actor aspires to be nominated for an Oscar, every social media wiz aspires to be nominated for a Shorty, and guys – this year – Ariel is nominated alongside big names like Vin freaking Diesel for best live streamer. Sooo… you know….
Please keep the fangirl screams to a minimum. (Or channel your fandom into voting for Ariel here – every vote counts and voting will close soon on Feb 22).
Anyways, without further ado, here's a post all about Facebook live – what it is, why you should use it and how you can use it like a pro.
How does Facebook Live work?
In April 2016, Facebook rolled out their new "Facebook Live" feature, which allows users to live stream directly to the newsfeeds of their friends and fans. You can do this both from your personal account and from your Facebook Page. When you go "Live", you are literally connecting with your audience in real time – they'll see everything you're broadcasting via your phone, webcam, etc. as you do it, and you'll see their comments and reactions rolling in at the same time. An extra bonus is that people get notified whenever you go Live, which makes it an excellent way of getting around the disaster of FB organic reach.
In case you're wondering how to start a Facebook Live on your Page, just select the "Start a live video" option when creating a new status: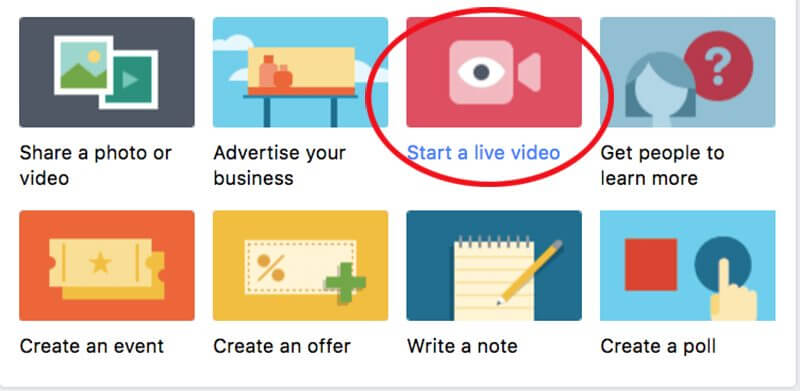 ---
Why should you use Facebook Live?
Facebook Live is an amazing way to leverage the power of video on Facebook without complicated scripting or hours of editing while crying. Beyond that though, there are a lot of unique benefits, like…
It helps you build a hyper-engaged community
Urbanist is solid proof that Facebook Live can turn regular fans into die-hard devotees. Every second comment is practically a declaration of love, like the sweet fan who commented "We all love you and hope the best for you. I was telling my husband about you tonight at our Valentines dinner tonight. Hoping you achieve your dreams!" I mean, GUYS! It even got to the point where one time, during Ariel's highest viewed broadcast (80k views!), a fan actually saw him and approached him live to gift him Scottish candies. I mean, if that's not fan engagement goals, I don't know what is.
So, that's the important takeaway here: Facebook Live can help build a very direct and intimate relationship with viewers, which translates to a highly engaged community and all the perks that go with it (hey sponsors!). On that note…
Facebook Live can be a gateway to sponsored opportunities
Let's face it, it's getting increasingly tough these days to stand out among a sea of talented content creators. Think about the massive amount of people who blog, Instagram and tweet. On the other hand, the number of FB Livers is not nearly as high. For Ariel and Urbanist, this has helped pave way for many awesome partnerships with brands and tourism boards, like Sennheiser (the biggest audio recording software company in the world) who had a pop-up store in NYC and sponsored Ariel to come in and live stream. #goals
And last but not least…
Facebook will love you for it
If you want to appease Zuckerberg and the Facebook gods, going Live is a great way to do it. As I mentioned before, Live videos are pretty much the only type of content that will earn you a guaranteed notification in followers' feeds (which these days, is rarer than Willy Wonka's golden tickets). Plus, Facebook is actively pushing for more meaningful, discussion-oriented video content, which Live most definitely is.
So, hopefully you now see the insane potential of Facebook live! If you need more prodding though, Ariel has written this great post that highlights how powerful Facebook Live can be. Check it out here!
PS: "FB Live" fans are the kind that will draw you rad fan art. Just sayin:
---
Tip on How to Use Facebook Live like a Pro (via Ariel from Urbanist)
So, now that we've got you jazzed about the perks of Facebook Live, here are some valuable takeaways from our sit-down with Ariel, who dropped some amazing tips on how to use Facebook Live like a total badass.
Grow an audience around a common passion (your passion!)
Remember, like with all content, you should be strategic with what your Lives are about. In order to use them as a vehicle for growing your community, you need to first know what that community is all about. Urbanist for example brings together people who love city culture and history. The better you know what your "thing" is, the better you're able to serve your audience with amazing, valuable content.
Ariel's three step process is as follows:
Talk about what you love. He says "the reason I'm successful doing live videos about history is because I LOVE history, I've been reading about history since I was 8 years old and browsing Wikipedia till the late hours of the night. Lean into what you love to talk about and everything will be easy from there because it make researching topics more fun."
Find yourself an audience. If you want to grow your community, you need to hang out where your audience hangs out! Luckily, Facebook makes it easy to do this. As Ariel says, "on Facebook, all it takes is to share your live video with relevant Facebook groups or coordinating with major pages to share your video while it's live." This can help you grow your audience like crazy.
Stuff your brain with information and stories. And to ensure your broadcasts are smooth like butter? Here's an unconventional tip: stuff your brain. Seriously! Ariel suggests you "learn about a large variety of topics, tickle your curiosity even if it doesn't seem directly related to your topic, and learn specific stories (and/or flesh out your personal anecdotes). Once your brain is stuffed with information, talking becomes much easier."
Be proactive in fuelling engagement
Sadly, engagement doesn't just happen like magic. The amount of hard work and planning that goes into it might surprise you. The first step though? Talk to your audience and include them in the broadcast as much as possible. As Ariel says, "if you're not going to talk to your audience, you might as well make a recorded video. Forget about a live video being replayable. Live video is all about the here and now."
Here are some of Ariel's tips for getting crazy engagement on Facebook Lives:
Respond to every single comment. Ariel says "The simplest thing I do to get incredibly high engagement is responding to every single comment and by saying the person's name. When you hear you name on a live broadcast, it gets you hooked even more. That's the secret that is so obvious but a staggering amount of people don't practice. Talk to your audience and they will shower you with comments, shares, and so much love that you won't be able to keep up."
Consistently reintroduce the broadcast (and yourself) throughout your live. Because live video has people constantly tuning in and out, Ariel says it's important to continually let the audience know who you are and what your broadcast is about (remember, some people might be tuning in for the very first time, so don't assume everyone watching will know you or what your Live is about).
Ask viewers to share (but give them a valuable reason to). Scared of seeming desperate when asking viewers to share your Live broadcast? Abolish this fear by wrapping your request in value! On Urbanist, Ariel often says things like "Share this video with your friends and family right now if you want to show them the beauty of London," which gives his viewers a clear reason to share. He adds that you should "find out what value you bring to people with your livestream and ask people to share for that reason. If you're livestreaming about travel tips then ask your audience to share with their friends that are travelers, or if you're livestreaming about knitting ask them to share with their knitter friends, etc."
Get funky with your calls to action – incorporate the Facebook reaction buttons. Fact: the more people engage with your Live, the more it will show up on newsfeeds (for both your fans and their friends!) That's why you should actively incorporate calls to action throughout your broadcast that get people involved. Ariel says "I sometimes make a poll such as: "Press the Like button if you want to go this direction, or press the Heart button if you want to go that direction." or I say "Press that Wow Face if you're as amazed by this landmark as much as I am right now." CTAs like this can be golden for engagement!
Take a look at Urbanist's most popular live video for some inspo:
Prepare some content in advance, but be sure to mix in some spontaneity
One of the biggest obstacles holding people back from trying Facebook Live is that they dread freezing and having nothing to say. Well, here's a secret: Facebook Live Streamers aren't just magical unicorns who effortlessly speak with zero prep at all! Even pros like Ariel plan Live content in advance. Don't be afraid to plan your broadcasts around specific research or stories you've prepared. As Ariel says "I have two main live shows on Urbanist: 1) Historical Tours and 2) Wanderings. My historical tours are planned by researching specific stories to tell, general history, learning the geography of the place I'm visiting, and coordinating for my videos to get shared."
Buuut, that's not to say you shouldn't mix things up and be spontaneous too. For Ariel, this means his "Wanderings" broadcasts, where he goes Live when inspiration strikes him. There's some strategy involved in this too though. He says "this is where stuffing your brain with as much knowledge as possible comes in handy. I play off the environment I'm exploring to tell stories that I usually don't get to tell. For example I spontaneously decided to explore the neighborhood of Marylebone in London with no prior research, and while walking I bumped into a coffee shop I love and proceeded to tell the story about coffee's introduction to Europe and how the women of London organized to ban it from the city in the 1600s! Unlike edited videos, live videos are an opportunity to find free-flowing inspiration from your environment or a comment from a viewer."
And last but not least…
Understand that live video is unlike any other platform
To succeed with live broadcasts, it's important that you begin to understand Facebook Live as its own unique medium. It's nothing like vlogging or editing a cinematic video, because live streams are their own beast entirely, and success with them hinges on your ability to harness their uniquely social and interactive nature.
And so – some final words of wisdom from Ariel: "If I were to leave you with one thing, it's to see live streaming a medium to connect with people. It's not all about you, it's not all about a product. Live video is a conversation, between you and people all around the world."
---
So, who's excited to finally take on Facebook Live? Let us know in the comments if you have any more questions or your most valuable takeaway from the post!
And last but not least, if you enjoyed these killer tips, be sure to support an awesome member of our community and take two seconds to vote for Ariel in the Shorty Awards here. Voting closes on Feb 22, and if we want him to totally destroy big time celebs like Vin Diesel, then we need them votes! You can also stalk Ariel and all his amazing Urbanist content on his Facebook page, Twitter, Instagram and blog.
---
Like this post? Save it for later on Pinterest: