*FYI - this post may contain affiliate links, which means we earn a commission at no extra cost to you if you purchase from them. Also, as an Amazon Associate I earn from qualifying purchases. Check out our Privacy Policy and Disclosure. for more info.
Not sure how to generate deep links on CJ Affiliate?
Luckily, CJ is an affiliate network that makes deep linking super easy.
Long story short, as we discussed in our affiliate marketing guide for beginners, deep links bring readers to a specific product or page, rather than just the brand's website.
Using them will greatly increase your affiliate marketing success!
Sadly all networks have a different process for generating them, soooo…
Today, I'm going to teach you how to create a deep link on CJ Affiliate (formerly Commission Junction).
Specifically, we'll be linking to this awesome mega soft sherpa fleece from Columbia. Yassss.
NOTE: This info is accurate as of April 2021. If the process has changed, please send me an email so I can update the tutorial!
How to Generate Deep Links with the CJ Deep Link Generator
STEP 1: From your CJ Affiliate Dashboard, hover over the Links tab on the menu and click over to 'Link Tools'.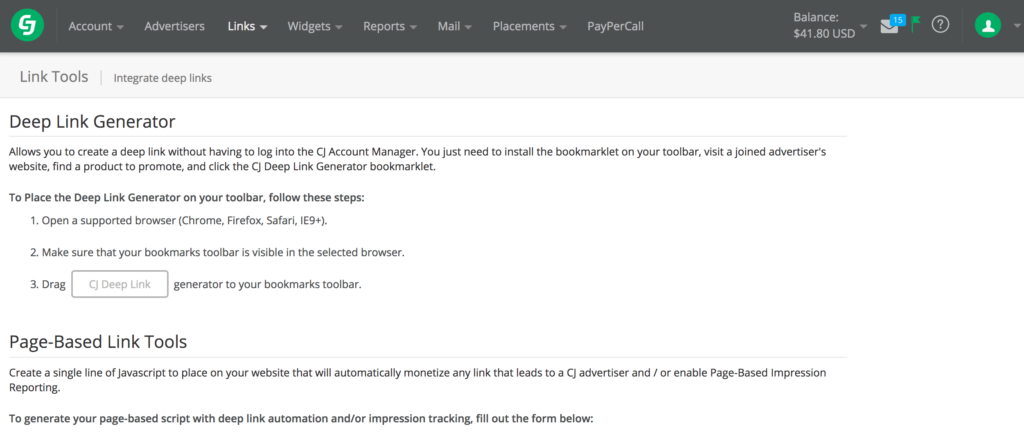 STEP 2: You'll now be shown a page of instructions for CJ Affiliate's Deep Link Generator. Add this Deep Link Generator to your browser by dragging it to your bookmarks toolbar.
STEP 3: Now go to the page that you want to create a deep link for. In this case, we'll be looking at this awesome mega soft sherpa fleece from Columbia.
Press the CJ Deep Link tab on your Bookmarks Bar.
STEP 4: That will prompt this window to appear with your Deep Link URL! If everything has been configured properly, you can just copy this link here and insert it into your post as you would any regular link.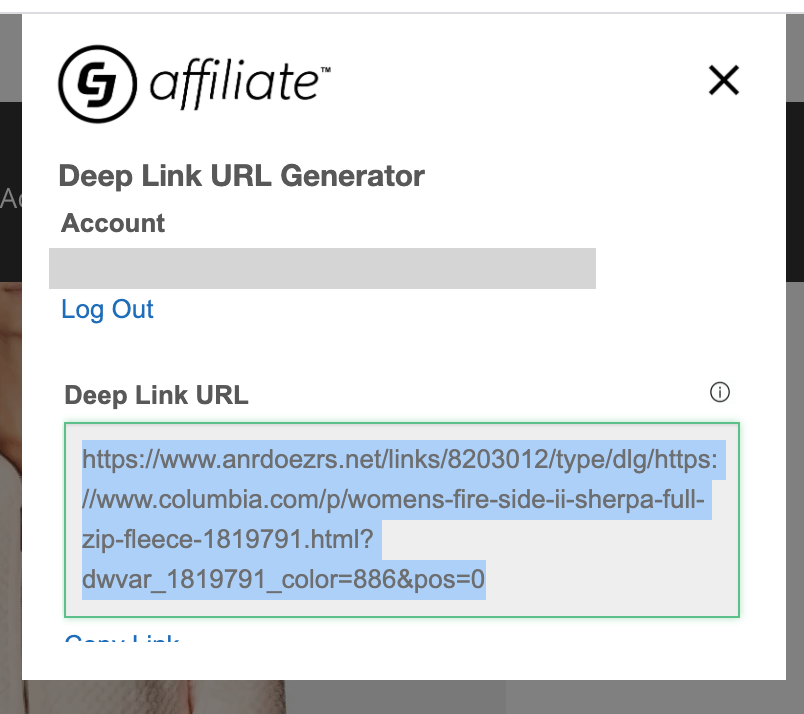 In html, it would be <a href="YOURLINKHERE">Whatever text you want to be clickable</a>
And boom! You're done! Here's the wonderful link we've just created.
Any more questions about generating CJ Affiliate Deep Links?
Hopefully you enjoyed that easy tutorial on how to deep link on CJ Affiliate! Best of luck, but let us know in the comments if you have any questions 🙂