*FYI - this post may contain affiliate links, which means we earn a commission at no extra cost to you if you purchase from them. Also, as an Amazon Associate I earn from qualifying purchases. Check out our Privacy Policy and Disclosure. for more info.
Here at Slaying Social, nothing makes our hearts sing more than seeing badasses kill it on social media. That's why today we're introducing a brand new series called Slayer Success Stories, to showcase some ridiculously epic people in our community who are slaying it online.
We'll be kicking off this set of Slayer Success Stories with a boss lady kicking all sorts of butt on Instagram… and just life, in general.
Many of you will know Helene from Helene in Between. She's like the blonde, female version of Buddy the Elf, except with slightly more sass and a better wardrobe. She's a full-time blogger, a wizard-esque Instagrammer and the brains behind the massively popular course Instagram for Success. Also, she's one of the few adult humans actually shorter than me, so whew, at least my ego has something.
Now, the reason we've brought Helene in today is to talk about how she has seemingly accomplished the impossible: generating stupid amounts of traffic using Instagram. Just how much is "stupid" exactly? Something to the tune of over 10,000 views a MONTH. Ugh, I know. I hate her too.
So, between hopping countries (she was named one of the most travelled bloggers in 2017), convincing creepers she's a meerkat (here's screenshot proof) and saving the world (probably), Helene took a bit of time out of her insane schedule to chat IG Stories with us, and give us the low down on why Instagram is better for traffic generation than you might think.
As in… way way way better than you might think.  Try to not pass out at these stats: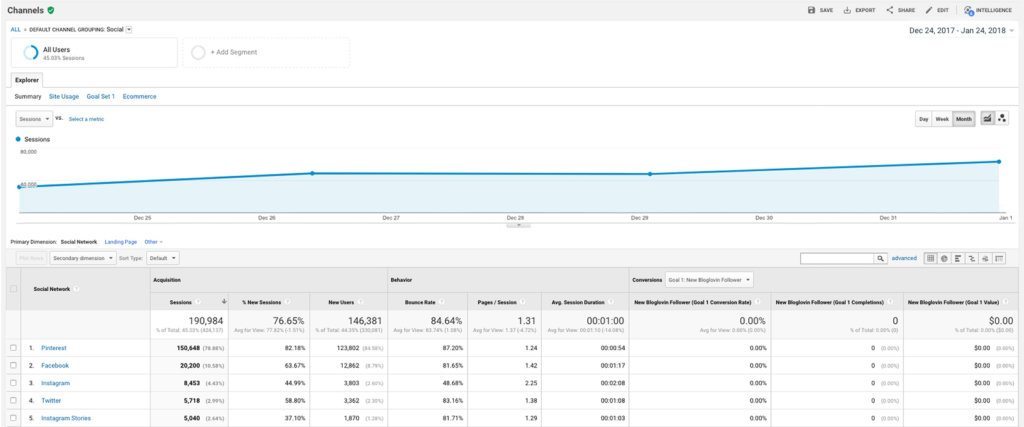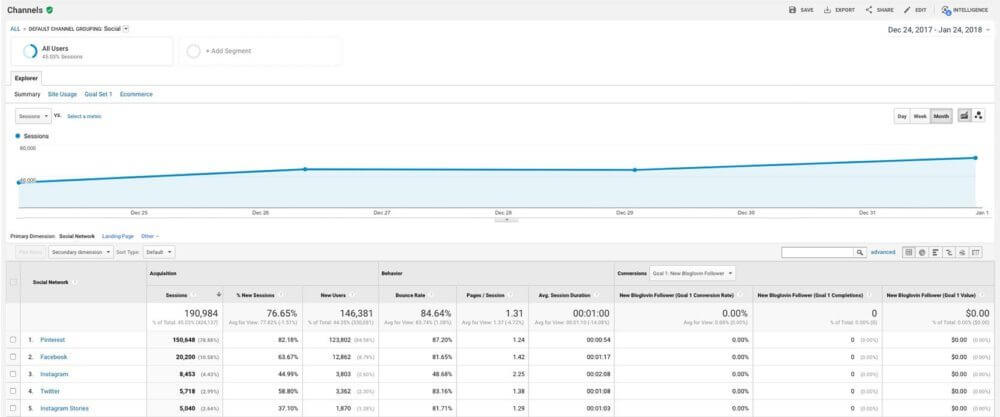 So, what's the secret?
How do you turn double taps and hate-scrolls into clicks and cash? Here are some actionable takeaways from our sit-down with Helene (PS: read til the end to find out how you can pick this girl's brain 1 on 1!)
NOTE: At the moment, generating traffic is only possible with Stories when using the "swipe up" feature (activated once you hit 10,000 followers). If you're not there yet, here is your kick in the butt to remind you to work on your IG! Our surprise at the end might help 😉
---
How to Slay Instagram Stories
Listen to what your followers are asking
Helene says: "Everyday I look at my DMs and see what questions people have for me. If I notice a trend I will answer that question and then show them a blog post that has more information, For example, I get lots of question about how I moved abroad with dogs. I wrote a detailed post on this, so I use the "swipe up" feature on my Instagram story to share this post with people."
---
Use consistency to build an engaging story
"It's part of my everyday routine. Instagram is one of the biggest drivers of traffic on my blog, but people have short term memories. They forget that I am not just an Instagrammer, but a blogger too. So I use my stories to remind people of that. I try to answer questions promptly and my posts reflect the questions I most often get or the things I'm passionate about. I also remind people that they can always go to my blog to learn more. I consistently share about blog posts, news, and exciting things to come on my blog. This way it becomes a story. There's always more that I'll be talking about which helps entice my audience to keep checking back again and again.
Plus, she says "if I have a new post, I like to tease it out. I'll let people know that it's coming and also when it's live. Then I'll share about the post in various ways: I'll do a selfie video to the camera announcing the post,  a screen shot from the post, and a quote form the post. All of these are linked with the post as well."
And uhh, looks like it's working. Check out this one story that got Helene over 1000 pageviews: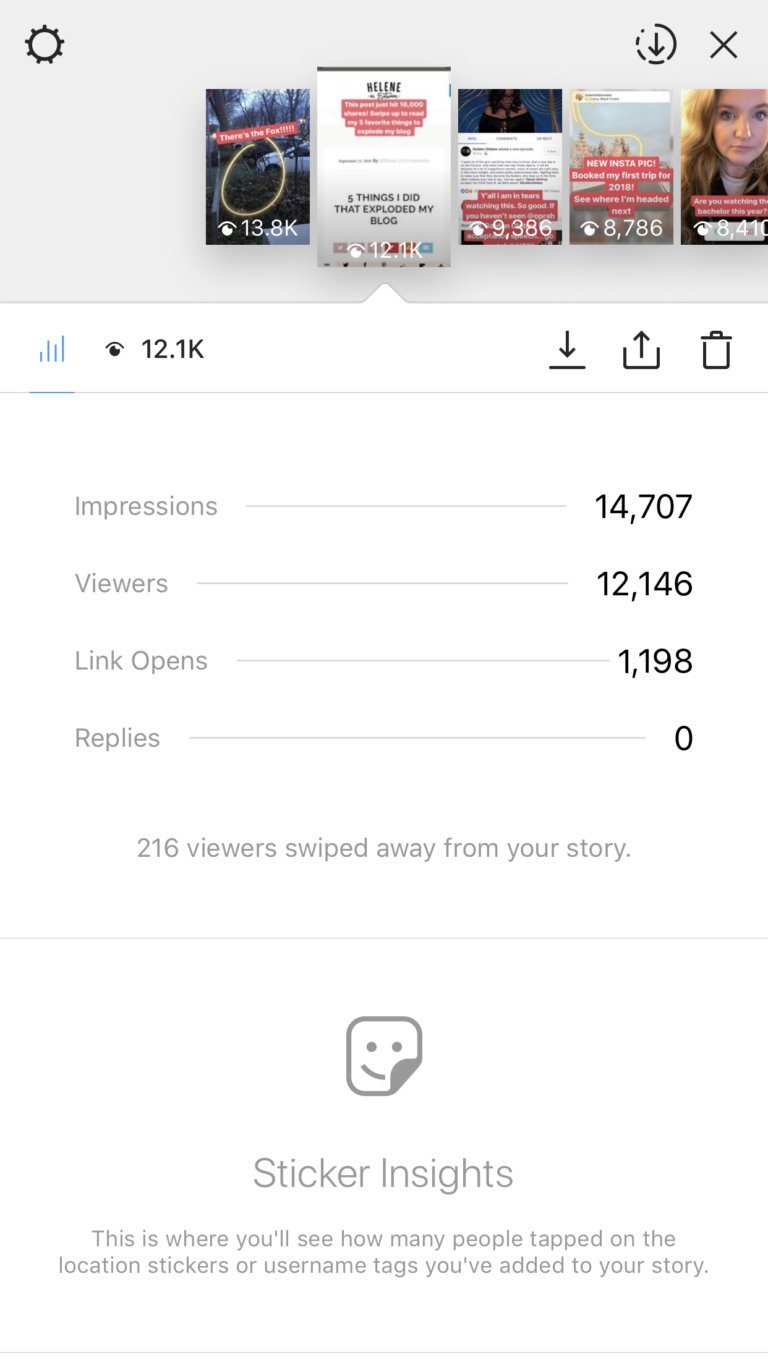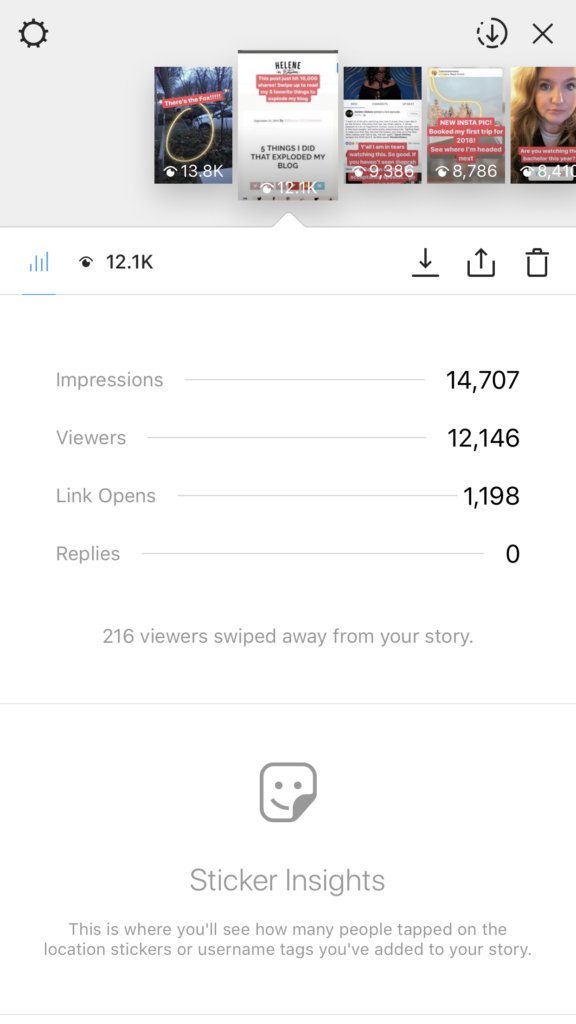 ---
Forgo perfection and focus on presence instead
When asked for a common mistake that drives Helene insane, she told us it was Instagrammers "not sharing on stories."
"So many people say they have nothing to say! Everyone has SOMETHING to say! Think of a funny story from your day, a quote you love, a book you read, etc. People want to relate to you. That is the entire point of Instagram and Stories to me. So understand it doesn't need to be perfect. It just needs to be something you do regularly."
---
A story a day keeps the followers hungr-ay
"Be consistent. That means try to share one thing every day. It can be something small, a screen shot, a quick, 15-second video, or just a snippet of your life. The more regularly that you post to Instagram Stories, the more likely you will be to show up."
---
Last but not least: USE STORIES (or Helene will track you down)
"Using Instagram Stories is one of the best ways to keep your audience engaged and interested in you, your blog, or your brand. There are millions of people on Instagram and Instagram Stories are featured at the TOP of the app. So bottom line? Instagram stories are the future, y'all!"
---
Curious to learn more from the master? Helene will be opening doors to her course, Instagram for Success, in a few short days, but guess what? We've schmoozed our way into getting an exclusive pre-sale for all of you. If you register within the next few days, one of the bonuses you get is 1 on 1 coaching call with Helene herself and to sweeten the deal further (if you purchase from our affiliate link below), we'll toss in FREE enrolment to our Slaying Social Strategy course + access to our (secret) VIP mastermind group, which is a $200+ value.
Having taken the course myself, I know just how useful it can be for newbies/struggling Instagrammers. In my opinion, this girl is seriously undercharging, but who am I to weasel you all out of a good deal? For real guys, if you're still having trouble cracking the Instagram code, this course might just be your salvation.
Sooo, I'll stop yapping and let you get to it:
Thanks again to Helene for taking the time to answer our questions and totally school us with her ridiculous stats! Be sure to check her out on Instagram and on her blog, where she dishes out amazing travel & blogging tips.
---
Psst, how about saving this post for later on Pinterest?