*FYI - this post may contain affiliate links, which means we earn a commission at no extra cost to you if you purchase from them. Also, as an Amazon Associate I earn from qualifying purchases. Check out our Privacy Policy and Disclosure. for more info.
This post was originally published on happytowander.com in 2016. For more up to date social media resources, check out our free guides here.
Does social media have you ready to set yourself on fire?
Today, we're gonna fix that.
Hello again bloggers, welcome back to another glittery instalment of the No BS Guide to Travel Blogging. Crazy to think that we're already onto Week 3 of Blogtoberfest. No doubt, it's been one wiiild ride, filled with caffeine-fuelled delirium and many hours toiling away at my keyboard. Of course, you guys have been absolute troopers as well. I know that a lot of you have been in recovery/fetal position after last week's lengthy Guide to Epic Travel Blog Content, but I've got some crazy news for you.
Today we're going even more in-depth.
---
---
If you haven't thrown yourself out the window yet, congrats! I know that these posts can be a lot of reading, but like I said in Week 1, I'm really over unsubstantial advice that barely teaches you anything. One thing you should know about me is that I don't do things halfway, and if I'm promising you an ultimate guide, you best believe this thing will melt your eyeballs off.
So, moving on… We as Internet users sure have come a long way since the awkward emo MySpace profiles of yesteryear. Today, our Internet usage is consumed by countless social networks, whether it's judging your ex on Facebook, developing unrealistic expectations on Pinterest or picking restaurants based on Instagram aesthetic.
And let me just say – I'm the last person to judge. I freaking love social media. Every morning I eat my cocoa puffs with a side of memes, and wash it all down with IG double taps. I love that it brings cool connections, an endless stream of inspiration, and well duh: I love it for how much it has helped my blog grow.
It's no secret that social media is a crucial tool in any blogger's arsenal, but most blogging guides don't go beyond "Be active on social media"… and that's pretty much as helpful as saying "to live a happy life, breathe air."
Do I enthral my followers with vintage cat photos? Live tweet my messy breakup? Maybe reenact this breakup through vintage cats???
---
---
"Being active on social media" means a million things, so today I am going to offer up a practical resource full of tips on how you can effectively use different social media platforms to drive traffic to your blog and grow a loyal fanbase. Tried, tested and true tactics that have helped me out immensely since I first started.
This week's post is so lengthy and comprehensive that it legitimately needs its own Table of Contents. Skip ahead to a section that interests you, or for the wildest Saturday night of your life, read it all in one sitting!
---
---
The simple formula for social media success
While I'm going to provide more specific strategies for each platform today, I think when you strip everything down, peel off all the spammy layers, a killer social media strategy boils down to three key ingredients:
Awesome, valuable content + eyes on your account + relationship management
So… this simple 3 piece puzzle may look squeaky clean on paper, but let's face it: social media is a rollercoaster shitstorm in practice. There's so many platforms, so many strategies, so many ways to 'game the system' that it's easy to feel totally disillusioned and fed up. I've felt all these frustrations before, and I know you have too… which is why today I want to focus on what matters: practical tips that actually help you grow your blog. Grab yourself a sleeping bag because we're gonna be here for a while.
Psst, as a bonus, remember to leave me a comment below with your favourite social media platform/tip, alongside one profile link and I'll be sure to check it out and give you some love! 
---
---
Basic tips for all social media platforms
Good content is your #1 priority
Nothing can serve as a substitute for good content, so this is where you should start. On Instagram, post only your best photos, on Twitter/Facebook, share really interesting articles, on Pinterest, develop high quality pins, etc. None of the strategies below will work if your Instagram is all blurry selfies and fragments of regret. You need to provide content that is worth following, and that is the only way that your channels will organically grow.
BTW, for optimal results, you better ensure your blog content is smokin' too. Check here for tips on how to do that.
---
---
Choose your networks wisely
I know that you guys are all ambitious go-getters.
I also know that you're gonna read all these tips, go into hyper maniac mode and try to implement them all at once.
For the sake of your sanity and mine, please don't.
It's important to realize that doing a few platforms really well is better than doing them all and sucking. Juggling social media is like a full time job in itself. Sometimes between writing up new content, promoting your posts, travelling, drinking wine by the bottle, or whatever it is you do in your spare time, you'll let some networks fall between the cracks… and that's okay. The following tips and strategies are presented as an ideal, but the reality is that very few people crush it on every single social network. If time is a limited resource for you, pick a few platforms and focus on being badass at those first before moving on to others.
---
---
Schedule your posts!
Keeping up with social media is one of the most time consuming parts of being a blogger. Make your life easier by devoting 1-2 hours a week scheduling all your posts in one sitting, rather than at random points throughout the week. Buffer and HootSuite are awesome tools for this.
NOTE: For Pinterest, there's an incredible tool called Tailwind which I highly recommend. It allows you to schedule pins in advance (even to multiple boards) and helps you actively monitor and measure your success. It's a paid tool, but their free trial is very generous, so give it a try before you commit! Sign up here for a free trial and watch the magic happen.
---
---
Social media is not a one-way street
Some people treat social media as a soapbox where they projectile vomit content all over their followers. I personally don't like being vomited on, and I'd say the same for your fans too.
One of the most fatal mistakes of bloggers is that they falsely assume it's all about them, and neglect the very important concepts of engagement and reciprocation. When your social media is nothing but a narcissistic ego trip, then even your mom will stop liking your stuff.
So what should you do instead? Here's my tip: engage with your followers and their content, even if that means a few Instagram comments a day or a few tweets here and there. This is so crucial to social media success because it solidifies a relationship and rapport between you and your followers. Let's put it this way: are you more likely to take advice from a friend or a stranger on the Internet? Well, engaging with followers makes them see you as a friend, and this stronger tie will help convert them into loyal readers. Like I said, relationship management is a crucial 1/3 of your social media strategy, so don't neglect that (or I will find you).
… plus, followers are just genuinely cool people anyway. My social media community has helped provide travel advice, job opportunities and once, oddly enough, even accounting tips… The only thing it hasn't given me is a husband, soooo guys I'm waiting…
*awkward pause for you to decide if I'm joking or not*
Anyways, let's move onto the real good stuff… the strategies you can be using for each individual platform. I could go a million times more in-depth with each section, but then this post would turn into a novel. Most of these guides assume that you already have a working knowledge of each platform. What I'm giving you instead are some of the golden little secrets that move you from "okay" to "amazeballs".
We'll start with my personal favourite for traffic – Pinterest!
---
---
Using Pinterest for your blog
Get a Pinterest Business account and enable rich pins.
If you guys have not yet hopped on the Pinterest Business bandwagon, do it now. It's free (here's how you get one), and unlocks a variety of perks like detailed Analytics and rich pins, which are a glorious blessing for bloggers. If you've ever seen a pin with detailed blog info under it, angrily wondering what sorcery made that possible, rich pins is the answer. This feature pulls up more information about each pin, and there's a wide range available for recipes, products, but most relevant to us – articles. This way, your blog name shows up anytime something is pinned from your site, which helps drive more traffic back to you. Enabling them is easy! Here's a guide from Pinterest on how.
---
---
Design really, really nice pins.
You've probably heard this advice before. You've also probably heard that you should be using Canva to create nice vertical images that are Pinterest-friendly. That tends to be where the advice stops… but let's be honest: that's not helpful at all, is it. There's still scores of hideous pins out there (created on Canva) so clearly this advice needs a little bit of polish. Now, while not all of us are designers, it's important to realize that having beautiful well-designed pins can pay dividends for your traffic and reach. I could easily write a 5000 word post on how to design beautiful pins (which I will someday, trust me), but for now here's a few things you should keep in mind:
Go long. Vertical images perform better on Pinterest, you already know that… but longer vertical images do even better. Check out my 'Best Of' Pinterest board to see the difference my new (longer) pins and my older ones. That little bit extra makes a huge impact!
Pick bold, attractive fonts. Stay away from the ugly defaults like Impact, Arial or Comic Sans.
Only use mega beautiful images. No blurry iPhone photos, please. Pinterest is such a visual medium that having a nice photo makes all the difference. If needed, use stock photos. There's no shame in that. (For a list of places with free, beautiful stock photos, check out my Resource list for Travel Bloggers, an exclusive for Blogtoberfest subscribers, so subscribe to get the password). Go for photos that are bright, colourful and vibrant.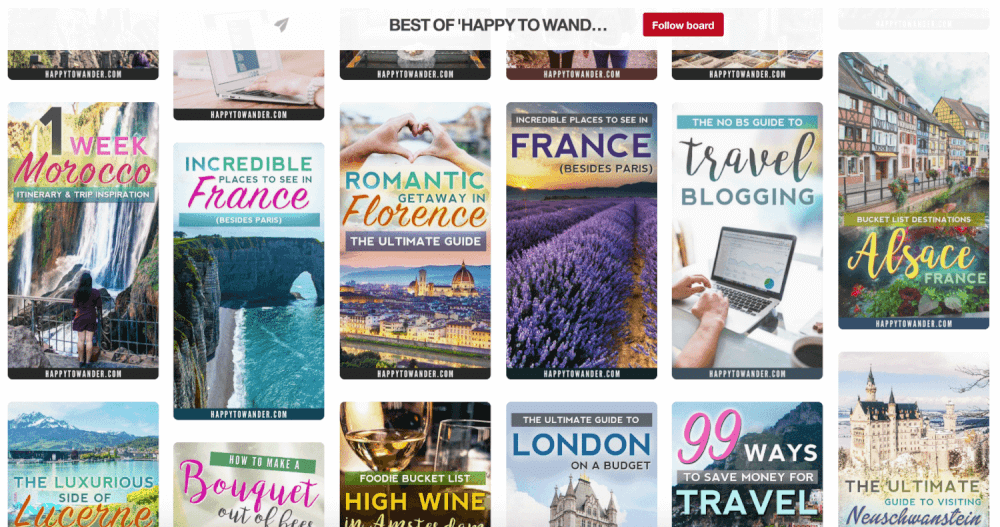 ---
---
Populate your image's alt tags with keyword-rich descriptions of your post
When a reader goes to pin an image from your blog, what's in the 'alt tag' gets pulled up and automatically placed as the description for that pin.
So what do you think will get more traction… "DSC90399" or "A comprehensive guide with 99 actionable tips on saving TONS of money for your dream holiday, including helpful links and resources"?
Obviously the first one lol jk second one. I have yet to go back and do this for all my posts, but as soon as I get the time, I will. It's a bit tedious, but worth it, and gives you a lot more control over what is shared on Pinterest!
---
---
Use invisible ninja pins
I realize I sound like a tin-foil hat conspiracy theorist right now, but these are a real thing, and I am about to share some life-changing information with you… Did you know that you can add secret pinnable images to your blog posts?! As in, you can have tons of gorgeous, text-heavy, vertical pins that don't clog up your content and mess up your aesthetic flow, but are still available when readers want to pin your article to their boards?
I'll pause briefly as your brains explode.
These invisible ninja pins are an incredible, incredible tool. It means you can have a wide variety of pinnable images for people to choose from, all without sacrificing the clean design of your site.
To see one in action, just press the Pinterest share button on the left (or on the bottom, if you're on mobile). See that pretty long pin? See how it's magically not anywhere in this post? By the beard of Dumbledore, that's incredible! Here's how you do it. In your WordPress post editor, in the Text mode, add this code to where you want the image to be:
<div style="display: none;">INSERT YOUR IMAGE HERE</div>
The stuff that's in between those div tags will now be unseen and invisible. Cuhhh-razy.
---
---
Join Pinterest sharing groups 
One of the things that has been key to my Pinterest growth is participating in Facebook groups where bloggers help each other out by repinning content for each other. This is huge, because Pinterest is one of those platforms where follower count doesn't matter that much. Instead, what's more important is the reach of your pins, and having 40+ bloggers repin everything you post? That immediate increase in reach is huge.
[yellowbox]BONUS! My free resource library has a list of my favourite blogger groups, including Pinterest repin ones, so be sure to check it out.[/yellowbox]
Okay, I have to be honest with you: you're going to pin a LOT of crap. Like, a lot a lot of crap. There's going to be ugly pins, garbage blog posts and things that make you go "wtf". But, as you stare at your weird pins list, wallowing in pools of self-loathing, just know that this is one of the few cases where 'selling out' is totally worth it. Especially for a newbie blogger.
Most of the content you pin will actually be valuable, anyway, but…. truthfully… sometimes it'll hurt. Like that time I had to repin "natural hair tips for pregnant women" and questioned my whole existence. BUT not all hope is lost. To use group share threads without totally destroying your Pinterest account and brand consistency, try mixing it up and pinning more content to group boards – this means only people who follow that board will see your pins so things will seem less spammy.
---
---
Make attractive covers for your Pinterest boards.
It all comes down to branding and first impressions. Creating consistent covers for your boards will make you look a million times more professional, which makes people more inclined to follow you.
Check out what I've done with my covers here.
---
---
Once again, use scheduling services to make your life easier.
I hate to sound like a broken record, but scheduling pins can make a massive difference and save you tons of time! Services like Tailwind allow you to schedule posts in batches, which means you get your work done quicker and it's a lot less spammy to your followers. Give their awesome free trial a go and you'll see what I mean.
---
---
Using Instagram for your blog
Ensure your feed is ridiculously good looking
Develop a cohesive visual theme
This is a constant work in progress for all Instagrammers, me especially. Scrolling through my feed long enough will allow you to quickly pinpoint the exact moments where my existential IG crises took place. I've experimented with more visual styles than an angsty teenager, but I'm pretty comfortable in my groove now. This of course wasn't done in a day! If you use filters (whether on Instagram, VSCOCam or elsewhere), be sure to stick with the same few, and try to have similar colours throughout your gallery. This helps tie everything together and is much more aesthetically pleasing.
Include some solid blocks of space to keep your feed from looking too cluttered. 
I struggled for the longest time with my Instagram gallery because something just never looked right about it. I would stare down some of the beautiful, sharp feeds from popular Instagrammers and wonder why the heck mine didn't look like that. One day, the answer hit me: my feed was too cluttered! I love cool landscape shots, but these tend to have a lot of detail and stuff going on, which makes your feed look overwhelming. Try to add some photos that are cleaner, with more empty space or solid chunks of colour, which can help break things up.
---
---
Mix the format up for variety
As travel bloggers, it's tempting to assume that people are only after our pretty travel photos, but the truth is landscape shot after landscape shot gets boring. I like to vary things a little bit: in between the landscape shots, add a photo with me in it, a flat lay, a photo where an object is the focal point, etc. This makes for a more varied and interesting gallery. PS: Photos with people in them tend to be more interesting anyways (not blurry drunk selfies though… never those!)
---
---
Make your captions valuable too
Many people consider Instagram to be solely a visual medium. Sure, pretty pictures are nice, but what most people don't offer are good captions, and that's a key differentiator that you can use in your favour. Use your captions to showcase your personality, offer interesting info, tell a story, etc. and people will be far more likely to engage with you. Good content in your captions (besides a messy hashtag dump) give people more incentive to follow you as well.
In other words, I'm saying you can do a lot better than just a praise-hands emoji.
Think about it: if all you have to offer are 'pretty travel photos', why should people follow you vs. National Geographic or one of those countless travel feature accounts? It's because of your personality and story! Remember that a unique value proposition extends beyond just your blog content, but your social media content too.
---
---
To build a following: engage, engage engage
The reciprocation economy on Instagram is hella strong, which means when you like and comment on other people's photos, many consider it common courtesy to do the same back. The key is to have really good content on your feed, so that when users come to interact with you, they see value in what you offer and potentially throw you a follow. Remember, Awesome, valuable content + eyes on your account. This is what helps you grow followers.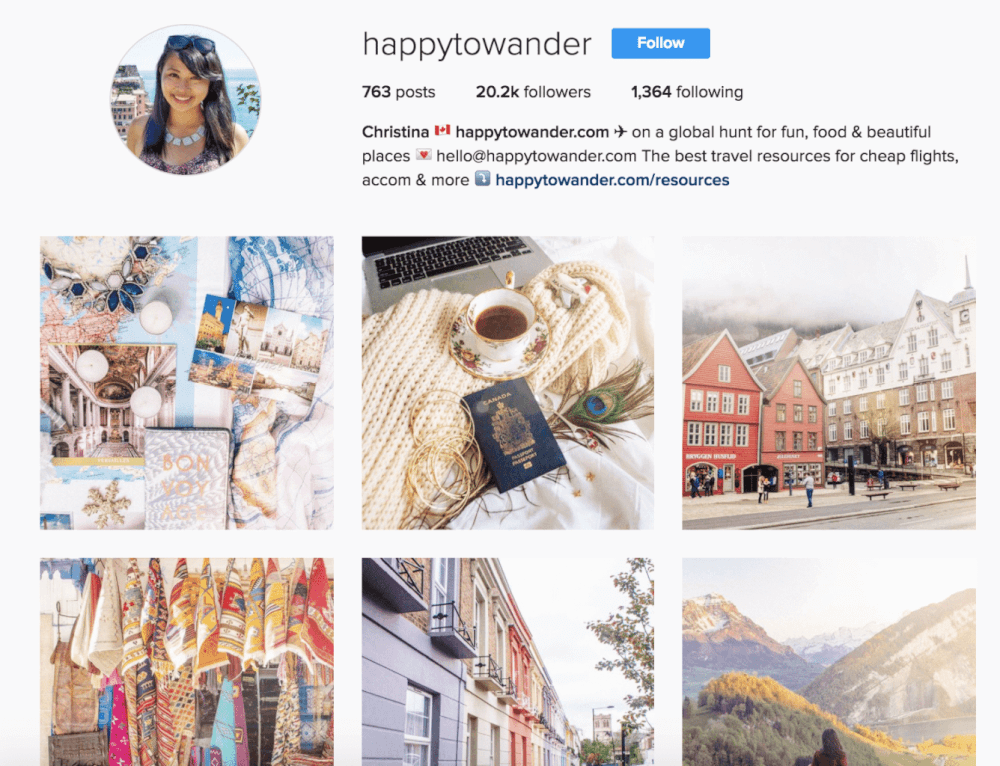 ---
---
Use Instagram Stories to build a stronger connection with your followers
I haven't hopped on this bandwagon yet (mostly because I'm terribly awkward on camera), but Instagram stories (juuust like Snapchat) are a great way to give your followers a look into your unfiltered life and personality. This helps to solidify a connection between you and once again, make them see you more as a friend. Plus, with their position on the Instagram newsfeed, Stories help you stay top of mind with all your fans, which is incredibly valuable given the new algorithm changes. (Shoutout to Naomi from Roaming the Americas for this killer tip!)
---
---
Use the link in bio strategy to drive traffic
Instagram is not the best driver of traffic. Compared to Pinterest or Facebook, it doesn't even come close.
But it's not impossible to leverage Instagram for traffic, you just need to get creative.
One trick I've been using (and has been working great) is to have a link to a specific blog post in my bio rather than just my website URL. Matched with a brief description of what it is: "e.g. How to create epic travel blog content -> https://happytowander.com/epic-travel-blog-content/", this gives people more incentive to click through. Most crucial to this strategy is to let people know about these new links when they come out. Post a photo and in the caption, spread the good word about your mindblowing update, alongside the fact that they can oh so conveniently access it in your bio.
Easy peasy.
This simple call to action might not rake in a lot of views, but it's a good start.
---
---
Using Facebook for your blog
Brand your profile
Don't make the mistake of treating your blog's Facebook page like your own personal profile. Save your party pics and cat memes for friends and fam, because your page is where you put your professional pants on. Use a high quality profile photo that reflects your blog brand (a headshot type photo or logo works), plus an eyecatching cover photo. You don't have a lot to work with when it comes to Facebook page design, so make sure these elements count.
Share really cool and interesting stuff (even when it's not yours)
Many bloggers make the mistake of only sharing their own content but that gets boring really quickly, and also writes you off as overly self-promotional. What you should do instead is work on building yourself up as an authority in the travel sphere, which means sharing interesting content within your niche (even when it's not yours). The other upside of this is that when you share content from others, that makes them more responsive to sharing your stuff too.
Experiment with ads.
Oooof, I know… moneyyyy… spending it is hard, especially when it's not on french fries, but like I mentioned in my 7 golden rules of travel blogging, sometimes you need to spend money to make progress. That's how blogging goes. Now, Facebook is the worst when it comes to this. In recent years, they've started tweaking their newsfeed algorithm in ways that force pages to spend advertising money in order to gain more exposure. This is the sad truth. Building an organic following on Facebook is (I think) more difficult than any other platform, so that's where strategic ads should come into play.
How to make an effective Facebook ad is a whole other article in itself, but my suggestion is to make use of Facebook's excellent targeting features. Try different locations and see where you get more traction, and also target people by interests. I've sneakily targeted people in the past who already like pages of bloggers within my niche, which helped me quite a bit! There's no secret formula to success here, you just need to play around a bit.
I don't usually use ads to boost my posts, because I personally find that it doesn't give me much traction in terms of traffic. That said, they have been an absolute miracle in growing likes for my page.
---
---
Twitter
Use Twitter cards
Enabling Twitter cards for your blog will make sure that any time content from your site is tweeted, there will be additional info shown alongside the tweet. There's a few different types to choose from, but my personal favourite is the Summary Card with Large Image, which showcases your featured image. The benefit of this is that your tweet will be more eyecatching, but also drive traffic to your blog anytime content of yours gets shared. All it takes is a few lines of HTML added to your site. Read more about Twitter cards here. 
Or, alternatively, add a big beautiful photo alongside your Tweet
Photos grab attention, so make use of them to draw readers in. The benefit of this over Twitter cards is that sometimes the cards don't show up unless you expand the Tweet, whereas images will always be seen in someone's feed. With Twitter being a constant stream of content, you should make use of any tricks you can to ensure your tweet stands out from the masses.
If employing the above method, tag RELEVANT accounts in your photo (you can tag up to 10) 
This is a great way to (almost) guarantee that your Tweet will be seen and therefore shared, because each account you tag gets a notification (and as a bonus, these tags don't count towards your character limit!) Let me stress one mega important word here though: relevant. Only. tag. relevant. accounts. I'm saying this because doing otherwise is unbelievably annoying, and having been tagged in countless photos myself, I know first hand that these Tweets haunt your notifications forever until you untag yourself. So, use sparingly. A good idea for tags would be tourism boards of your location. I recently tagged the London tourism board in a photo I tweeted, and they shared it with their audience of almost 500k followers! Pretty nifty.
Do not beg for retweets.
There was this article that circulated a while back about how to best ensure your content got shared on Twitter. Among them was a tip that said tweets with 'Please RT" at the end were much more likely to get that coveted retweet.
Yeah okay that might work but… seriously?
There's legitimately nothing you could do on Twitter that looks more desperate than a "Please retweet!". It's basically saying that your content isn't good enough to get shared on its own, and you have to resort to begging… Would you ever do this in real life? Shouting at randoms on the street "PLEASE READ MY BLOG"?
Nah bro.
So focus instead on creating valuable tweets that people would want to retweet anyway.
Cancel all those 'autopublish' Tweets ASAP. 
Automated tweets that say "I just published ____ on Facebook, I just published ____ on Bloglovin" etc. save time, but aren't the most engaging. There's a lot of Twitter accounts out there whose entire feed is comprised of these tweets and blehhh…
Sure you can tell people that you published a new Facebook photo, but you know what would be a better use of everyone's time? Just showing people the dang photo.
 Don't make the mistake of pushing out the same content on every platform, because then there's no incentive for your followers to follow you on different accounts! Offer something uniquely valuable on each one, and I'm sure your followers will thank you.
---
---
Using StumbleUpon for your blog
Genuinely, I have no idea how StumbleUpon works or how things get popular… but it's a large enough source of traffic that I felt its inclusion was necessary.
Make sure you have a StumbleUpon share button clearly displayed on your page.
This makes it easy for people to stumble your posts. You should make it as easy as possible for people to share your content, which is why you should have some kind of Share plugin installed on your site. I highly recommend SumoMe.
---
---
Have 'Stumble worthy' content. 
For StumbleUpon to really work for you, you need content that will catch people's attention immediately. Things like listicles or big bold photos work well for this purpose, whereas "my first day in Europe" probably doesn't hold the same appeal. Content that does well on StumbleUpon is bold, interesting and unique. What can you offer that ticks off these boxes?
BEWARE: StumbleUpon will wreck your bounce rate. The traffic spikes coming from this platform can be substantial, but there's no doubt that the traffic isn't of the best quality. Use it at your own risk, because it will grow your viewcount, but might not be bringing you your ideal audience.
---
---
Using Bloglovin for your blog
Claim your blog on Bloglovin.
Don't already have a Bloglovin account?
Waaaaatchu doin' with your life?
Sass aside, you should know that Bloglovin is genuinely a massive gamechanger for bloggers in any niche. This gem is an awesome platform that allows users to keep track of their favourite blogs by subscribing to their feeds. This means that as a user, all the new posts from your favourite bloggers can be found in one place! Plus, when you claim your blog, you can get readers to subscribe, which means they will be receiving your new posts from the comfort of their own feed… and all pageviews still go to you.
Pretty cushy eh?
Here's a step by step guide on setting everything up!
---
---
Display the Bloglovin follow button clearly and prominently on your blog.
A lot of readers and bloggers use Bloglovin to keep track of blogs that they enjoy reading, so having that button prominently somewhere on your page (the sidebar for example) is an easy and valuable addition.
---
---
Follow relevant bloggers in your niche. 
This serves a dual purpose: it increases the chance that they'll follow you back, plus you're also curating a feed of good blogs to read (remember: constant reading is key to good writing!)
---
---
Use eyecatching featured images.
When posts show up on Bloglovin, you have two opportunities to really hook people in: firstly through your blog post title but more predominantly through that featured image that the feed picks up. If the photo is eyecatching and beautiful, of course people will be more inclined to click on your post.
---
---
Use a plugin to control which image it'll pick up.
If you want extra control over which photo Bloglovin will use, I recommend a plugin called RSS Image Feed. It gives you tons of control over the images that get pulled by the RSS feed, which means you can set it to the first image, 2nd image, etc. This can be handy if you want to use a Pinterest-esque vertical image to show up on Bloglovin, but don't want those dimensions for your featured photo. Take a look at some of the posts on my profile for an example.
---
---
Write 'clickworthy' titles.
Refer back to last week's Guide to Epic Travel Blog Content for some inspiration.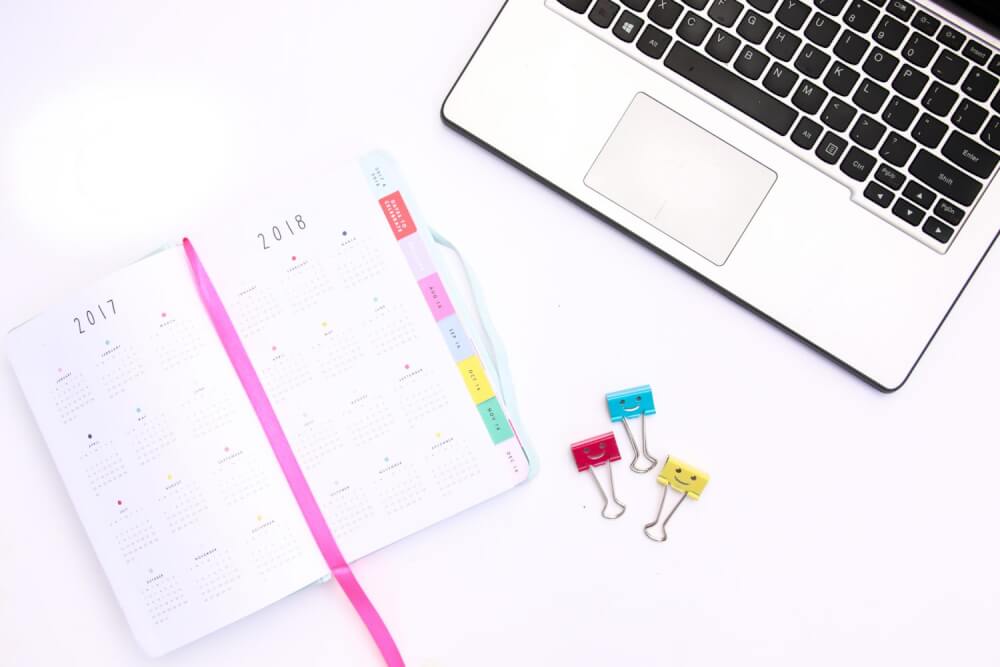 ---
---
Using Flipboard for your blog
If you've never heard of Flipboard, don't be alarmed. I had no idea this existed until I started noticing random spikes of traffic coming from it, and as it turns out, Flipboard is actually super cool.
Imagine a classier version of Pinterest, where users 'flip' articles from the web and into their own magazines. If one of your articles gains traction on Flipboard, the traffic increases can be huge. Some general tips:
Make sure you have a Flipboard share button clearly displayed on your page.
Because Flipboard is a lesser-used platform than the big ones mentioned before, most bloggers don't have a share button on their page. Install one if you can because you never know who might want to flip your article. Again, SumoMe is awesome for this.
---
---
Flip some front page articles, then flip a few of your own.
I'm not able to comment on why this works, but this usually increases the reach of my articles vs. just flipping mine on their own.
---
---
Participate in Flipboard sharing threads. 
Just like how Pinterest repin groups are pure gold for your Pinterest success, there are Flipboard groups on Facebook devoted to bloggers sharing and flipping each other's content. This is an easy and guaranteed way (though time-consuming) to boost your Flipboard reach.
---
---
Using Google+ for your blog
This is a platform I hope to get into once I have more time. I know that a lot of people dismiss Google+ as the social media family's awkward cousin, but it genuinely has a lot of potential. I've noticed that often when I search things up on Google, random Google+ status updates will pop up in the first few pages. This is huuuge, because it's a great a way to increase the chance that your content ranks high on Google… and in the world of daunting SEO tips, isn't that what we all want?
Full disclosure: I'm no Google+ professional. I don't use it at all, but I've assembled a list of tips for when I eventually do hop on the G+ train, so here they are:
---
---
Get a Google+ Business Page and brand it well with info on your blog.
Google+ Business pages are a great way for brands (aka you) to connect with their fans. On your page, make sure your blog URL is clearly apparent, and hook people in with beautiful photos and visuals too.
---
---
Add people to your circles and strategically segment them.
The cool thing about Google+ is that when you add people (like 'friending' them on Facebook), you do so by adding them into different circles. In a travel blogger's case, some different circles might be "Bloggers", "Tour Operators", "Hotels", etc. This is really good because it allows you to tailor your messaging more effectively to the different groups (which is the next tip), but in order to grow your account, you should start by adding people into your circles. This will help you slowly but surely grow a community on there, since many will follow you back.
---
---
Tailor the content you share to your different circles. 
To increase the effectiveness of your messaging, you can choose to strategically share certain posts with your different circles. This can be handy in ensuring that the content you share is relevant to the circles that you have created. For instance, an article like this which is clearly targeted to bloggers might not be so relevant for hotel professionals. With Google+ though you can choose to only share this post with your Bloggers circle.
This helps establish trust and authority within your different groups!
---
---
Get involved in Google+ communities.
Google+ is filled with communities, which are groups where people discuss a common interest like travel, backpacking, etc. You can join these communities and engage with others through discussion topics and even sharing links. Sidebar: as tempting as it is, it's very important that you don't just go into these communities to link drop, okay? Rather, you should take the opportunity to offer helpful advice and insightful input when possible, which helps establish you as an authority in that topic… Then you can sneakily self-promote from time and time and people are more likely to trust the advice that you provide.
---
---
Using Snapchat for your blog
Snapchat is not the best platform for driving direct traffic, but it's a superweapon when it comes to building a loyal fanbase who value you for your personality, opinions and unique story. I've dropped the ball when it comes to Snapchat (trying to be witty in the moment makes me want to set myself on fire), but some bloggers swear by it to help connect them with readers and provide a candid/authentic peek into their lives. I guess nowadays the same can be said for Instagram stories! Anyways, even though I'm not a Snapchatter (or Instagram Story-er), here are some tips for success:
---
---
Have your Snapcode in a prominent spot. 
Snapcodes are really handy because they allow people to add you on Snapchat by taking a photo of your code (like your profile photo). A lot of bloggers who Snapchat heavily will have this photo as their profile pic on Twitter, Facebook and anywhere on their blog. This is a great way to let people know that you're on Snapchat and makes it super easy for them to follow you.
---
---
Only post interesting stuff.
This goes without saying, but I can't believe the amount of dead boring Snapchat stories I've had to watch in the past. People probably aren't interested in your house cleaning ritual (unless you're like, really good I guess?) so only post when you have something worth posting.
---
---
Use it as a way to drive people to your blog/other social platforms.
If you have a new blog post out, tell people about it on Snapchat… or if you're running a giveaway on Instagram, let people know by snapping a photo of your page with the details. Although you can't use Snapchat to directly link people to things, just using it as an awareness tool can be a good way to get more people to your content.
---
---
Likewise, leverage your other social platforms to drive interest to your Snapchat. 
If you're in a cool location for the day, let people know that you'll be Snapchatting everything live! A simple Tweet or Facebook post saying "Yo guys, I'm frolicking at a panda sanctuary today. Check out the pandamonium on Snapchat!" can offer a great incentive for followers to tune in or add you if they haven't already.
---
---
Be creative and fun! 
This is one of those rare opportunities where you can be no-holds-barred crazy because all the proof will be gone in 24 hours! Sometimes as bloggers, we have to act a certain way: immaculately attractive on Instagram, insightful on Twitter, etc. Snapchat and Instagram Stories allow you to showcase your personality in its rawest form… so take this opportunity to show readers who you really are. (Unless the real you sucks… but I'm sure it doesn't!)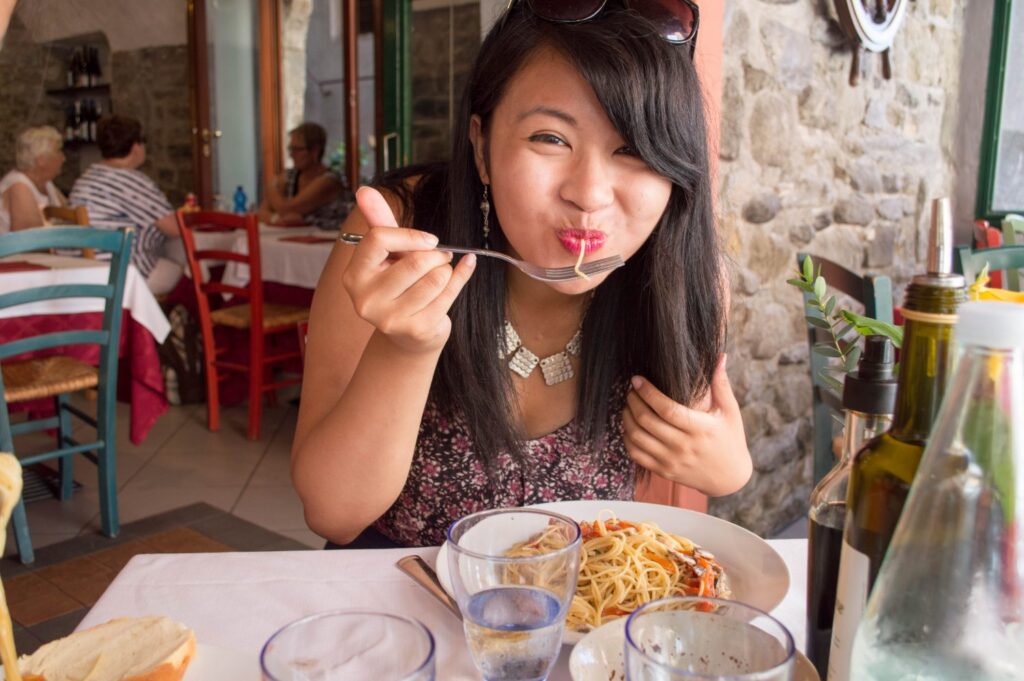 ---
---
Common Social Media Strategies and my Thoughts
Oookay, meandering into some controversial territory here, but I want to briefly discuss some of the popular social media tactics used by bloggers to grow their presence and traffic. I'm offering my own personal opinions on them, because I think it's important to let all the dirty secrets out, but I trust you to make your own informed decisions because you're all adults and I'm not your mom (even though I have the lame humour of a mother).
Buying followers
Guys, this is the biggest no of all time.
Seriously, no. no no no no no no no no no no no no no no.
NooooOOOOoooooOOOOooo.
Put that credit card away before I buy a plane ticket to wherever you are and tackle you myself. On the surface, this might seem like a great deal. $5 and you get a good-looking follower count, which helps you look established right?
Sadly, maybe this used to work alright, but now the truth is people can tell. Like, it's painfully obvious. When you have a 100k following but only get 40 likes on each photo, that's pretty fishy, and will quickly harm your reputation as a blogger (and overall human, honestly). There are far better ways to grow you following, so avoid this at all costs or I will cry.
---
---
Follow/unfollow 
Even virtually, I can already feel some of your mouths foaming with rage. The follow/unfollow tactic is by far one of the most frowned upon tactics in the 'industry', and it goes like this: you follow a bunch of accounts for a follow back, then promptly unfollow to keep your ratio at a 'respectable' level. Repeat and repeat until your numbers are sky high (but so is your enemies list).
Guys, people take this stuff personally.True story: one time I unfollowed a guy (genuinely because I wasn't liking his photos anymore) and he DM'd me "bye unfollower" followed by a long string of middle finger emojis.
… so yeah people aren't very stoked when you unfollow them. As I've learned.
My thoughts on this tactic: yes, absolutely, it helps you build a following quickly. That said, it's a strategy that can only take you so far. I personally think that when you're at a stage where you need to establish credibility (and sadly this does come in the form of numbers sometimes), then this method can help you accomplish that goal, but you can't do it forever. It's an unsustainable (and kind of fishy) strategy, so it's better to focus on creating great content that people will want to follow, even when you're not following them. The big reason why this works is because you following someone gives them a notification and drives them to check out your page (part 2 of our social media strategy, remember?) This is huge because now they are aware of your existence! Following accounts, liking photos and leaving comments, all of these work because you're making your presence known. After that hurdle, the second crucial thing is that you have an awesome presence, so that people will want to follow you once they know you exist.
I personally don't have the heart to unfollow people who follow me (it makes me feel like the biggest Scrooge ever), but I am guilty of unfollowing unfollowers from time to time. I admit, this has helped me grow my numbers quite a bit. A lot of opposers to this tactic say that it doesn't work well because you're not getting engaged followers this way… but I don't think that's necessarily true. Yes, there are some people out there who have 20k+ followers and laughably low engagement, but that's because their content sucks. If you are using this technique, but you do provide good content, then a lot of these followers will engage with you. Think of the 'follow' as a little push to make your presence known, and then make sure you have a great presence that will keep followers engaged.
Bottom line for me: follow/unfollow is not the best strategy for long-term growth, but it's not as horrible as some people make it out to be. It CAN be helpful in establishing credibility (people are more likely to follow people with high follower counts, because to them this is an indication of content quality)… but pursuing this strategy is useless if your content's bad.
---
---
Bots, bots, baby
Another popular tactic is using bots. In case you didn't know, there's a lot of Instagram services out there that let you automate likes and comments, with the goal being to get more eyeballs on your account. This has a slightly better reputation than follow/unfollow, but anyone who's gotten one of those weird "Like it!", and 'Adorable!" photos on their Instagram know that it can be just as annoying. I'm not a big fan of this.  There's no doubt that it does work, but I prefer to like photos/comment on my own, because otherwise I feel like I'm cheating. Still, I recognize that not everyone has hours to spend each day to engage with people on IG, so… use your best judgment as to whether it's right for you.
---
---
Comment/Engagement Pods 
Many bloggers participate in special 'pods' where they comment/like on each other's content [mostly on Instagram] in order to boost engagement rates (and in an ideal scenario, get into Instagram's 'Top Posts' for additional exposure).
My philosophy: use this strategy until you no longer have to. Yes, these pods are a great way to build up engagement and get some momentum for your account. They're also a great way to meet new blogger friends and build important relationships with those in your niche… but, in the long run, what good are these comments going to do you? If anything, they might be falsely overselling your influence to advertisers/brands, which is not very honest. So, while it's good to use these and help establish credibility, it's not a sustainable long-term solution. Rather, you should be trying to expand your audience of non-bloggers, and you should be creating content that sparks engagement organically. I don't do Instagram engagement pods because I get decent engagement without them, but on the other hand I do participate in comment threads from time to time. It's all about recognizing where you need an additional boost.
---
---
Automated Messages
Ahhh… Let's face it: every one of us has received one of those terrible "thanks for the follow! Check out my website too." DMs. They've even started popping up on Instagram now…
But why do these spammy horror messages exist?
Some people say that it helps them drive clicks to their website/wherever their msg has told people to go. Some boast very good results from it.
Buuuut my personal opinion is that they're spammy and lame and I would never use them.
Totally your call.
but seriously don't use them or I'll be really really really really really sad.
weeeeellll… *hands you a glass of wine*
That was a lot.
Like, a lot a lot.
… but I'm so proud of you for getting through it! Social media is a big deal. It can help your blog grow in immense ways.  The downside is, it's totally confusing, there's all sorts of platforms you can join and so many different strategies for each (as you've seen). I hope this post helped shed some light on different platforms/techniques you can use to help create a badass social media presence for your blog, and I hope you save this post for later to reference it from time to time.
---
---
Now are you ready for some community fun?!
Leave me a comment with your favourite social media platform/tip, alongside one profile link and I'll be sure to check it out and give you some love! Have a great week!