*FYI - this post may contain affiliate links, which means we earn a commission at no extra cost to you if you purchase from them. Also, as an Amazon Associate I earn from qualifying purchases. Check out our Privacy Policy and Disclosure. for more info.
Hey slayers, surprise: Instagram has rolled out yet another feature!!
Those overcaffeinated developers at IGHQ have been on a hot streak lately… between the launch of IGTV, crazy Kylie Jenner filters, music partnerships with Spotify and ALL. THEM. GIFS…. they've managed to pull yet another magical little trick out of the bag: nametags!
Yes. Seriously.
If you haven't yet smashed your laptop in rage, here is a quick article piecing together everything we currently know about Instagram nametags, their intended use and how you can make the most of them to gain exposure for your account.
Instagram nametags are a feature that the IG team has been hyping up since April. Long story short, Nametags are scannable images that allow people to quickly follow you (because apparently typing out a username is for peasants now).
Sound familiar? In short, Instagram Nametags are literally Snapcodes. Like, the exact same idea.
Yup, just as they poached Stories from Snapchat, Instagram has gone and proved their shamelessness once again by stealing (or er, "adopting") Snapcodes. We're not mad about it though… Nametags do look like a pretty interesting tool and best of all, they can help open up a lot of doors in terms of visually promoting your Instagram account.
So, now you might be wondering…
Where do I find my Instagram Nametag?
Again, we have to emphasize that this is a brand new feature that is gradually being rolled out. When your profile changes to accommodate Instagram nametags, trust me, you'll know. Everything shifts over in your Profile and it's very jarring, distracting and noticeable.
In my case, this change came one fateful morning when I noticed my username had been shifted to the left, and all these mysterious new icons now populated my upper right hand corner. To access your nametag, click on the second icon to the left (the rounded square thing surrounded by bracket things, as a technical person might put it).
Once you tap on that icon, you'll be able to edit your nametag and customize it in all sorts of fancy ways. More on that later!

Okay, don't retreat into your panic bubble just yet. If you haven't gotten the new nametag feature, it's only a matter of time.
Here's why you might not have it: Instagram has a history of releasing their new updates in waves. I for one have yet to receive the "Music" update on Stories for no apparent reason – even months after everyone else has gotten it. Confession: I manually add music myself with a special app because of my FOMO. It's super pathetic.
But anyways, IF your Instagram has been updated to the latest version but you still don't see the nametag feature, then the only thing you can do is patiently wait. For what it's worth, they seem to be pretty flip-floppy with this release – I've received and lost the feature about 4 times while trying to write this article. As you can imagine, this was a real damper on my productivity. All signs DO point to this becoming a widespread feature soon though (and not just a tester one)… so keep an eye out for it.
How to Customize Your Instagram Nametag
Alright, now that you understand what Instagram nametags are and how to find yours, it's time to have a bit of fun and customize your nametag in all sorts of fun ways. There are three main design templates that Instagram currently offers for nametags: gradient colour, emoji and selfie sticker, which are used to create a background for your handle. What remains consistent however is a central white square that has your handle/username on it. Apart from that, you can go wild with the background options.
To change the background template, just go to the top of your screen and tap on the button in the middle. This will allow you to toggle between templates.
NOTE: I fully expect them to roll out more templates in the future, but for now here's what we're working with.
Customizing Your Instagram Nametag w/ Different Colours
If you want to keep things slick and minimalist, you can opt for a gradient colour background with your Instagram nametag. These options are similar to the Text options on Stories.
Customizing Your Instagram Nametag w/ Different Emojis
Another way you can customize your Instagram nametag background is with your favourite emojis! Basically whatever emoji you pick gets repeated in a tile fashion in the background. I decided to demo this by showcasing important facets of my personality: my overpolite Canadian-ness, my love for dumplings, my weird unicorn-esque whimsy AND "man fencing" because I wanted to pick the most random emoji I can find.
[Side note – how many people do you think have ever actually used the "man fencing" emoji? Let us know in the comments]
Customizing Your Instagram Nametag w/ Different Selfie Stickers
Last but not least, you can customize your Instagram Nametag background with a selfie sticker! Basically you take a photo then choose between four classic options: dramatic moustache, giant sunglasses, unicorn floatie or giant sunglasses v2.0. Think of them as the silly props you would find at a wedding photo booth. That's basically what they are…
The answer is: anywhere you want, boo.
It's too early to tell if this whole "nametag" thing will catch on, or awkwardly just 'be there' like other features (lol remember IGTV)? BUT assuming that people do start using them like they did Snapcodes, there are a lot of different places you can share your Instagram nametag to grow your audience. For example…
On your blog: When Snapcodes became a big thing, people started replacing their sidebar "headshots" with their snapcodes, so that new readers had an easy way to add them on Snapchat. This could be a potential use for Instagram Nametags, assuming that the trend catches on.
In-person networking: If you find yourself in a situation where you're networking with a potential brand, partner or fellow blogger, you can use Nametags to quickly and easily follow each other on Instagram. Who needs to struggle with awkwardly saying their embarrassing handles out loud? Not you! [Seriously though, saying "@happytowander" out loud never gets less cringey]
Parties: This is only partially a joke, but if you happen to be in a social situation and want to get new friends to add you on Instagram, Nametags will be an easy way to do it. And if you're wondering "who the heck would try to gain IG followers at a party?" WELL let me tell you a story. One time I invited a classmate of mine to a birthday party at my friend's house. According to several eye witnesses, she literally just cornered people at the party and made them follow her on Instagram. I mean, pretty radical strategy, but she must have grown by 30+ followers that night. #LoveTheHustle
Other social media channels: Similar to how people changed their "about me" pics to Snapcodes, people also started changing their social media profile photos to their Snapcodes too. This could be a potential way to convert your followers on Facebook, Twitter, etc. to become followers on Instagram too! Of course, once again, this is all reliant on whether or not the trend catches on.
Physical collateral: Besides sounding like a terrible action movie starring Arnold Schwarzanegger and Bruce Willis, what I mean by "physical collateral" is marketing collateral like flyers, leaflets, business cards or even exciting swag like MUGS. Honestly, if you gave me a mug, I would probably feel bad NOT following you on Instagram. The possibilities are endless!
Anyways, all in all, it's still a bit early to tell whether or not these new Instagram Nametags will rock our world, but one thing's for sure – those emoji backgrounds are fuuuuun to play with.
So! Let us know in the comments: have you gotten this new Instagram Nametags feature yet? Are you excited about it, or see potential uses for it? Talk to us, baby.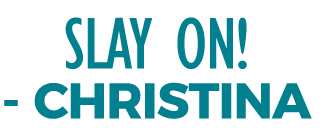 FOLLOW SLAYING SOCIAL

Hey, did you find this post informative? Save it for later on Pinterest!